Big Oil to Obama: Hands off our tax breaks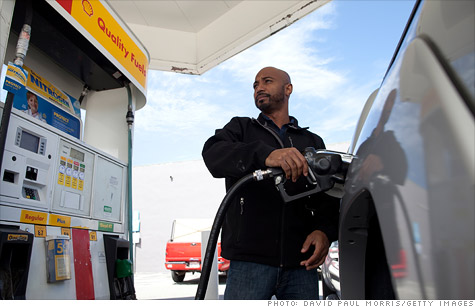 NEW YORK (CNNMoney) -- The oil industry launched another assault Tuesday in the battle to protect favorable tax rates for energy producers.
The industry's chief lobbyist in Washington, Jack Gerard, president and chief executive of the American Petroleum Institute, said raising taxes on the oil and gas companies would stifle job growth and do nothing to lower gasoline prices.
He said the recent push to eliminate industry tax breaks is "a red herring" designed to distract attention from the "ineffective energy policies" of the Obama administration.
President Obama and Democrats in Congress are pushing to end $4 billion in subsides, saying that oil companies are profitable enough to bear the burden, while the government is in serious need of additional revenue.
The tussle over tax breaks comes as rising gas prices have pinched consumers across America, while companies such as Exxon (XOM, Fortune 500), Chevron (CVX, Fortune 500) and BP (BP) have reaped billions in profits from a spike in global oil prices.
"It's not right that Montanans are paying anywhere from $3.50 to $4 a gallon for gas at the pump while big oil companies are raking in near record profits," Max Baucus, Democratic chairman of the Senate Finance committee, said last week.
Baucus has proposed repealing tax breaks for the biggest oil and gas companies.
But Gerard said cutting oil and gas subsides would cause companies to move high-paying jobs overseas.
"Why would we encourage American companies to go elsewhere in the world to produce energy," he asked rhetorically. "You'd think, at some point, we'd want to become a little more American in our approach."
Gerard said policy changes could help the industry create a million more U.S. jobs and provide "trillions" in additional revenue for the government. He called on Congress to open access to untapped U.S. oil sources, boost imports from Canada and allow for full development of oil and gas from shale deposits
Doc Hastings, the Washington Republican who is chairman of the House Natural Resources committee, blamed the Obama administration last week for high gas prices, saying the energy policies of the last two years have blocked access to domestic energy sources.
Hastings said his committee has approved three pieces of legislation that would reverse the president's energy policies. Lawmakers in the House are expected to review the proposals in the weeks ahead.