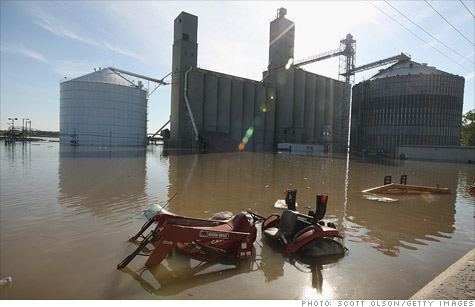 A tractor is submerged in flood water at a grain elevator in Caruthersville, Missouri.
NEW YORK (CNNMoney) -- The massive flood churning its way down the Mississippi River will go down in history for its catastrophic, multi-billion dollar impact on the Midwestern economy, says an insurers' research group.
The flood is causing a profound disruption to "the economic engine that is the Mississippi River," said Robert Hartwig, president of the Insurance Information Institute, an insurer-supported research group. "The Mississippi River flows with just as much money as it does water, even at this stage of modern transport," he said.
The flood waters of the Mississippi have already crested in Memphis and are currently heading downstream for New Orleans. Downtown Memphis remained high and dry, partly through extensive efforts to shore up the locks along the bank, allowing both the Memphis in May International Festival and a National Basketball Association game to continue unabated.
But even still, hundreds of homes and businesses remained in the Memphis flood zone.
Other city centers have been spared, partly because the U.S. Army Corps of Engineers has made tough decisions to save the urban centers by diverting water into less populated farmland, flooding the crops and causing extensive agricultural damage.
By the time it's all over, thousands of homes and business are likely to be flooded, said Hartwig.
Flooded homes and farms are the most obvious casualties of the overflowing Mississippi. But the impact to commerce along the river is just as important, he said. He said that barges will be unable to ship raw materials down the river. This could directly impact farmers, who will be unable to ship grain down the river, increasing the risk of spoilage.
In this way, even companies that remain safe from flood waters are sometimes impacted by transportation issues created by the flood. In Memphis, the flood prevented barges from accessing Valero's (VLO, Fortune 500) riverside refinery, according to company spokesman Bill Day.
Also in Memphis, the flood blocked the ability of the America Yeast Corp. to use 18-wheelers to bring in and ship out raw materials, according to Chief Executive Gary Edwards.
This year was a relatively calm one in the U.S. for natural disasters until April, when the South and the Midwest were lashed by three separate storm systems, each of them causing more than $1 billion worth of damage, according to Aon Corp., a risk management service company.
The most recent of these storms brought with it 178 tornadoes and killed at least 300 people, many of them in Alabama. Altogether, the three storm systems caused $4 billion worth of damage, according to Aon.
Hartwig said it was too early to provide a damage estimate on the flood.
"It's too soon yet," he said. "It's not over."