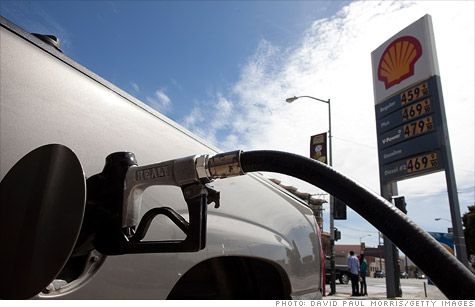 Memorial Day travel is expected to increase slightly this year, with most Americans going by car.
NEW YORK (CNNMoney) -- Americans aren't canceling their travel plans for Memorial Day weekend, despite gas prices at or near record highs in many parts of the country, according to an annual forecast released Thursday.
Motorist group AAA said that 34.9 million Americans are expected to travel 50 miles or more between May 26 and May 30. That would be up 0.2% compared with last year, when there were 34.8 million holiday travelers.
Robert Darbelnet, the president and chief executive of AAA, said the slight increase reflects a significant rise in expected air travel and a gradually improving economy. But he acknowledged that high fuel prices are a concern for many consumers.
"Some travelers will compensate for the higher fuel costs by cutting other areas of their travel budgets," Darbelnet said in a statement.
The forecast, based on research by IHS Global Insight, said that four out of ten travelers expect gas prices to affect their holiday plans, with most planning to cut costs, travel shorter distances or use alternative modes of transportation.
However, a majority do not see gas prices affecting their travel plans this holiday.
While gas prices have eased somewhat in recent days, they are still painfully high in many parts of the country. The national average currently hovers around $3.91 a gallon, compared with $2.85 a gallon this time last year.
As gas prices eat into holiday budgets, overall spending during the Memorial Day weekend is expected to fall 14% versus last year. AAA projects median spending to be $692, down from $809 last year.
The vast majority of Americans plan to travel by car for Memorial Day, but AAA expects a significant increase in air travel.
Of the 34.9 million expected travelers, about 30.9 million will be behind the wheel of an automobile, according to AAA. That's down slightly from the 31 million who drove last year.
Meanwhile, the group expects about 2.9 million travelers to fly during the holiday weekend, which would be 11.5% more than last year.
Those air travelers can expect to pay much more for airfare, lodging and rental cars, according to AAA.
Memorial Day airfares are projected to be 14% higher than last year. The lowest round-trip ticket for a flight to one of the top domestic destinations is $201.
Average hotel rates are expected to rise between 5% and 10%. Higher-end hotels are projected to cost $148 per night, while more modest ones will run $109 per night.
Car rental rates are seen averaging $38 per day during the weekend, up $1 from last year.
The expected increase in air travel contributed to a 27% rise in the average projected travel distance to 792 miles.