Toyota chief: Car production to stay in Japan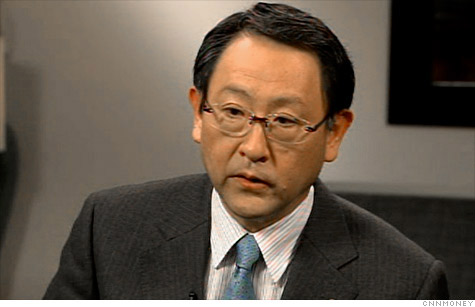 NEW YORK (CNNMoney) -- Toyota president Akio Toyoda said he has no intention of moving more production overseas in the wake of Japan's devastating earthquake and tsunami, but that Japanese factories will need a couple of months to get completely back online.
"At the moment, we have no plan of relocating production activities going on in Japan to other parts of the world," Toyoda told CNNMoney's Poppy Harlow in an interview in Redmond, Wash.
Of the seven million vehicles it produces worldwide, Toyota Motor Co. (TM) manufactures more than half of them outside its home country of Japan, Toyoda said.
"We would like to maintain three million [vehicles], which is currently produced in Japan, to continue to be produced in Japan," he said.
Toyoda said automakers outside Japan were also being affected by the conditions of Japanese suppliers impacted by the disaster. Rolling blackouts triggered by overheating nuclear reactors were among the problems faced by Japanese manufacturers, but he praised the Japanese government for its transparency in updating companies and citizens about conditions.
Toyoda, whose grandfather founded Toyota Motor Co., on Wednesday unveiled a $12 million partnership with Microsoft (MSFT, Fortune 500) to build a digital information and communication system for the Japanese automaker's cars called "telematics." He said the partnership was a "great blossom" for his company.
"To encourage hope in the future, that's what brought me here to Seattle," he said. "Getting our operation back up and running as quickly as possible will pave the way for future with hope. So we are working very hard to that end."
During the interview, Toyoda said it was difficult to leave Japan during its time of crisis. He mentioned that three employees of Toyota dealerships lost their lives from the disaster, along with dozens of family members of Toyota employees.
Thousands of Japanese citizens are dead and missing after the northeastern part of the main island was severely damaged by the earthquake and tsunami on March 11, triggering disasters at nuclear power plants.