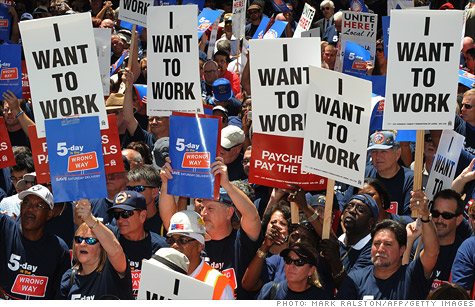 NEW YORK (CNNMoney) -- Psssh. That's the sound of the air being sucked out of the job recovery.
All eyes in the financial world are on the government's monthly labor report due Friday, hoping to see that the job market continued to grow in May.
But after several indicators pointed to a recent slowdown in job growth, the glass is now looking closer to empty than full.
"You could call it a soft patch, but it's the second or third soft patch we've seen in the recovery," said Paul Ashworth, chief U.S. economist with Capital Economics. "For a recovery that is less than two years old, it's troubling to say the least."
While the job recovery has -- let's face it -- been far from robust, it had at least shown some improvement earlier this year. For three months straight, the U.S. economy has added more than 200,000 jobs per month.
But more recent data, including two labor reports released Wednesday, show that momentum has since slowed.
What happened to the job market?

A variety of one-time factors, including high oil prices earlier this year, Japan's earthquake and nuclear crisis, and severe weather including flooding and tornadoes in the South, have all taken their toll on American employers.
Add government layoffs to the mix, and the picture looks even worse. As federal stimulus dollars have petered out, state and local governments have cut jobs for six months straight.
That said, economists were still not expecting this much weakness.
They were stumped when a report from payrolls processor ADP on Wednesday showed that private companies added only 38,000 jobs in May, falling far short of forecasts for 170,000.
Economists called it "shockingly weak," "grim," and even a "hairball" and many immediately started slashing forecasts for Friday's number.

"The jobs number this month will be weak," Robert Brusca, chief economist with FAO Economics, said in a research note. He has one of the most bearish forecasts, estimating the economy added fewer than 40,000 jobs in May.
While the ADP report is traditionally viewed as a precursor to the government's labor report, lately its predictive skills have been a bit dubious.
But that wasn't the only sign of weakness. The Labor Department's weekly reading on initial unemployment claims has stayed above 400,000 for four straight weeks -- a level that is typically too high to coincide with significant job growth.
And a report on manufacturing -- which had previously been a bright spot in the recovery, adding jobs for six straight months -- showed activity in that sector slowed to a 20-month low in March. Manufacturing employment is still growing, but at its slowest pace in eight months, the report said.

When will the bad news end?
David Resler, chief U.S. economist at Nomura Securities, blames much of the recent slowdown on supply-chain disruptions in the auto industry, following Japan's March 11 earthquake. He expects that effect to be merely temporary, with job growth accelerating in the summer.
But others say while slowness in the auto industry is surely part of the economy's recent weakness, it's not enough to explain the entire slump in job growth.
The services sector has also shown signs of slower growth, and recently saw its lowest monthly job gains since last July, according to ADP.
"That certainly has got nothing to due with motor vehicles or Japan," Ashworth said. "It could still be related to the tornadoes -- although my suspicion is it's just a sign of a slowdown in overall hiring growth."
Looking ahead to Friday's government tally, economists surveyed by CNNMoney say they're expecting to see that 170,000 jobs were created in May.
Eight of the 26 economists surveyed cut their forecasts following Wednesday's ADP and ISM reports. Of those who revised their forecasts, the average cut was by 54,000 jobs.
Forecasts are estimating the unemployment rate ticked down to 8.9% from 9% in April.