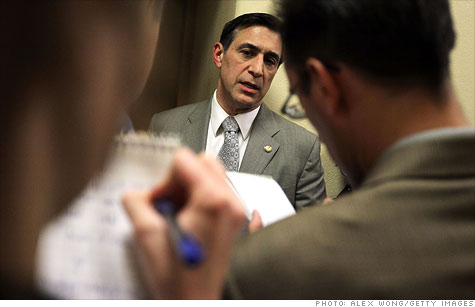 Darrell Issa wants to shrink the federal workforce.
NEW YORK (CNNMoney) -- How do you shrink the size of a workforce without firing anyone?
Answer: As aging workers retire, hire fewer replacements. And that's exactly what three House Republicans want the federal government to do.
A new bill would shrink the number of government workers by 10% by 2015. For every three retiring federal workers, the government would only be allowed to hire one replacement.
The measure would would save an estimated $127.5 billion over 10 years if adopted, according to Reps. Darrell Issa of California, Dennis Ross of Florida and Jason Chaffetz of Utah, the bill's sponsors.
"Private sector job creators and families in my district have learned to do more with less," Chaffetz said in statement. "So should the federal government."
The idea is not exactly a new one. President Obama's own fiscal commission included the basic plan in its final report, but would reduce the roughly 2 million member workforce at a less aggressive rate.
"Washington needs to learn to do more with less, using fewer resources to accomplish existing goals without risking a decline in essential government services," the report said.
Who would be hit hardest?
According to government data, average employees are likely to be in their mid-40s.
They work in management, business or financial positions at the Department of Defense, Veterans Affairs or Homeland Security. They make about $74,000 a year.
And they are starting to feel picked on.
Government employees are already enduring a two-year pay freeze in the name of deficit reduction. And bipartisan debt talks led by Vice President Joe Biden may well result in cuts to their generous retirement packages.
On Monday, National Treasury Employees Union President Colleen Kelley called the bill "yet another attack on the federal workforce."
The plan is "a short-sighted proposal that would only undermine the federal government's ability to deliver vital services, shift work to more costly, less effective private contractors and endanger public health and safety," Kelley said in a statement.