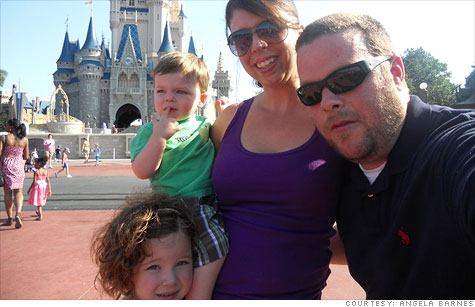 After years of staycations, Angela Barnes and her family travelled to Disney World for their summer vacation. But they cut a lot of costs from the budget.
NEW YORK (CNNMoney) -- Like the Griswolds, Americans are ready to hit the road for their summer vacation.
More people are choosing to travel this summer after years of staying home, according to recent reports.
In an American Express survey, 59% of Americans said they are planning a trip this summer, up from 51% in 2010.
But because most consumers feel particularly cash-strapped as the recovery sputters, this year's summer vacation is more in line with "Walley World" than "European Vacation."
"Americans are planning more vacations this summer," said Claire Bennett, senior vice president and general manager of American Express Travel. "However, they are still looking for options with great value."
Most people say they will stay relatively close to home and opt for a destination within driving distance. In fact, automotive group AAA estimated that 88% of the 34.9 million Americans that traveled over Memorial Day weekend, traveled by car.
Only about 20% of Americans plan to fly to domestic destinations this summer and just 14% will head overseas (thanks to the steep cost of international travel), according to a separate report by MasterCard.
Driving nearly 1,000 miles from Indianapolis to Disney World in their Toyota Seinna was all Angela Barnes' budget would allow. The 33-year old marketing consultant hadn't taken a vacation with her husband and two young children in years, but "we made it a priority this year that we were going to go away," she said. (See 8 great road trip cars)
In order to stay within their means, Barnes sought out deals online and scored a two-bedroom villa in Orlando for just $99 a night, a 50% discount she negotiated through Sheraton by forgoing maid service during their three-night stay.
The Barnes also opted stay with family in Atlanta along the way in lieu of a hotel.
"With a little leg-work, the total, including gas, hotel, food and extras -- like a massage for me -- for our family of four was $1,200," she said.
And worth every penny, Barnes noted. "It made me realize we need to do this more often."
Overall, vacationers plan to take an average of two weeks for a trip, and spend an average of $1,200 a person, or a few weekend-getaways, spending just $300, Amex said.
Suba Jagan is also planning a few frugal trips. She and her husband will camp this summer in the national parks, like Sequoia, near their home in Southern California.
"This way we can save money, get away from technology for the weekend and unwind," Jagan said, even though it's a far cry from the trips to Hawaii and New York that they used to take in better economic days.
According to CampingWorld.com, one of the largest online retailers of camping equipment, sales are already up 9% compared to the start of last summer.
"We did the calculation and figured we can take eight such trips for the cost of just one week long vacation that includes airfare," Jagan said.
Total cost for a weekend of camping is just $300 for the two of them -- including marshmallows, she said.