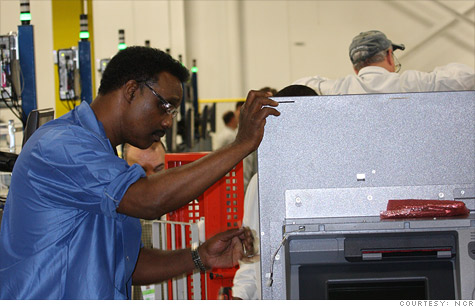 A worker building an ATM at NCR's new Columbus, Ga., plant. The machines had previously been built overseas.
NEW YORK (CNNMoney) -- It's still only a trickle compared to the flood of jobs that America lost to overseas outsourcing in recent decades. But some American businesses are bringing jobs home again.
In Louisville, a closed General Electric (GE, Fortune 500) appliance plant is being renovated to begin producing water heaters. An existing plant in the same complex will start making refrigerators. Both products are now being built overseas. Hiring of about 1,300 union-represented workers is due to begin this fall.
A technical support call center for computer back-up firm Carbonite will start taking calls this summer in Lewiston, Maine. By the end of this year, 150 jobs that had been located in India will be shifted to there, with another 100 jobs expected to be added next year.
NCR (NCR, Fortune 500) has already hired about 500 workers to build ATMs and self-service checkout systems at a Columbus, Ga., plant, and it plans to add another 370 jobs by 2014, building products that were formerly produced at plants in China, Hungary and Brazil.
This trend of reshoring or insourcing is likely to grow in the coming years, as the cost gap between building overseas and building at home narrows. It's an encouraging sign in a job market where hiring has stalled in recent months.
"Based on the number of calls I'm getting, I think a lot of people are taking a long hard look at what's gone on in recent times," said Peter Dorsman, the senior vice president of Global Operations at NCR.
He said when NCR looked at the cost of shipping products that weigh more than a ton each, as well as the need to have the plant close to the engineering staff and customers in order to constantly improve the machines, it decided to build the Georgia plant.
"We felt like controlling that innovation in-house was critically important," said Dorsman.
Greater quality was the major factor cited by Carbonite for moving back jobs to the U.S. as well. The company's call center in New Delhi, India was having turnover of 100% or more each year, said Tom Murray, the company's vice president of marketing.
Meanwhile, turnover in its Boston call center that handled more serious problems was in the single digits. Murray said that allowed the Boston call center to provide much better service and customer satisfaction.
"There's a clear benefit associated with continuity," he said.
For GE, the decision to reopen the Louisville plant, which had been closed for decades, was based on the fact that it's no longer as expensive to hire more workers in the U.S.
Jim Campbell, president and CEO of the GE Appliance and Lighting unit, said that when you factor in currency fluctuations and rising wages in emerging markets, "when we look out five to six years, the United States is becoming a lot more attractive."
That trend is likely to continue, said Harold Sirkin, a senior partner at Boston Consulting Group.
According to BCG, Chinese labor costs are rising about 15% to 20% a year. That makes producing goods in China not nearly as cheap as it used to be. For many manufacturers, that narrowing is enough to tip the balance back to U.S. plants.
"I think for many goods, people will say, 'I don't want to offshore to China because the economics aren't as good as making them in the U.S.,' Sirkin said.
Still, some think the number of jobs coming back to the U.S. will remain relatively small.
"I worry that there's a very big deal being made out of a few anecdotal instances. I think it's a lot of wishful thinking going on," said Alan Tonelson, a research fellow for the U.S. Business and Industry Council, a trade group.
What's more, countries such as China and India that have profited from U.S. offshoring won't stand pat and lose the potential jobs without a fight.
"It's not as if the Chinese government is helpless is to offset this rising wage trend," Tonelson said.