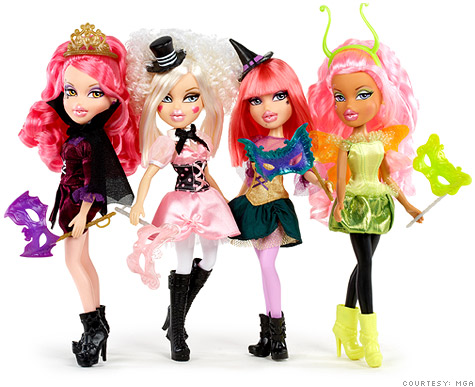 Hot off a big legal win over Mattel, toymaker MGA is gearing up to 'relaunch' Barbie's sassy rival, the blockbuster Bratz dolls.
NEW YORK (CNNMoney) -- Watch your back, Barbie. A sizzling summer doll war is about to erupt because your arch-rival -- those cheeky, sassy Bratz dolls -- are promising a big comeback.
"Bratz are the first and only dolls that truly challenged Barbie's dominance in the last 50 years," said toy industry analyst Gerrick Johnson.
Bratz first hit stores in 2001 and ballooned into a billion-dollar global phenomenon in just five years. Fans quickly dubbed the edgy, multi-ethnic Bratz as the "anti-Barbie" doll.
But Bratz' success was stymied by a nasty legal battle with Barbie's parent, Mattel, over who owned the brand. Its legal woes damaged the brand, said Isaac Larian, CEO of Bratz-maker MGA Entertainment.
Now with a legal victory over Mattel (MAT, Fortune 500) under his belt, Larian said he's pushing to try to get the Bratz franchise to where it once was.
"It's not going to be easy and it's not going to happen overnight," Larian said.
Getting her Mojo back: The first full collection of new Bratz dolls and accessories in more than two years hits stores this summer. CNNMoney got an exclusive look at how Bratz will try to get their mojo back.
Just like the original Bratz, the new dolls will stay true to what the dolls always represented -- multi-ethnic fashion dolls that take their cues from pop culture trends. But Larian promises that the 2011 reincarnation of Bratz will be "even more edgy."
The new collection, on store shelves by August, includes the "Masquerade by Bratz" dolls. These will be girl and boy character dolls with their faces partially hidden behind masks.
With the Bratz "All Glammed Up" collection, girls can add color and glitter to the dolls' hair. There's also the Bratz "sleepover collection" featuring dolls in cutsie pajamas, and a holiday-themed "Yasmin" doll in a somewhat racy Santa outfit.
Larian expects some of the new Bratz outfits will rub parents the wrong way -- again.
It happened the first time when MGA had to deal with a backlash from parent groups. "We got a lot of criticism that Bratz are sexualized dolls," he said. But he brushed it off. "Bratz are about instilling confidence in young girls."
"It's not necessary to make mothers happy. We want to make kids happy," he said.
MGA will also launch a new collection of Bratz-themed accessories this year that include clothes, shoes, toy guitars and microphone and speaker sets.
Extending Bratz beyond the dolls is crucial, said Johnson, because it's a way for MGA to keep growing the franchise and keep consumers interested in the brand.
Industry analyst Johnson said MGA has its work cut out to regain Bratz' former glory.
"I don't think we'll ever see the phenomenon that Bratz was in 2001 to 2006," he said. "The United States has become more multi-cultural. Bratz embraced that better than Barbie."
That's changed. As the legal wrangling with Mattel forced MGA to lose its focus on Bratz and cull its investment in the brand, Mattel and other toymakers took advantage of the opportunity to introduce fashion dolls of their own.
"There's a lot more competition in this area now and it will be more difficult for Bratz to stand out," said Johnson, citing Mattel's "Monster High" and "Barbie I can be" fashion dolls.
"But if anyone knows dolls and how to develop them, it would be Isaac," he said.
Larian's up for the challenge but he's being realistic, too.
"Bratz still resonates very well with kids," he said, adding that Bratz' Facebook page has more than 350,000 members.
"At one time, Bratz had more shelf space than Barbie. Bratz was half of business," he said.
"Right now Bratz is a small portion of our business. We have other successful brands like Lalaloopsy dolls,"Larian said. "We hope that Bratz can become at least a third of our business."