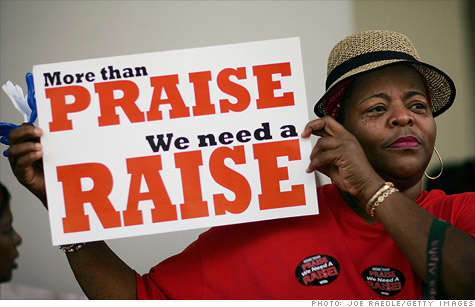 Workers in this tight jobs market have a tough time getting higher wages.
NEW YORK (CNNMoney) -- Even those who are lucky enough to have jobs are finding they have less spending power these days.
Workers made less per week in June than anytime over the past 18 months, when adjusted for inflation.
The downward spiral in wages is yet another sign of how troubled the jobs market is, economists said. And it will also slow the pace of the recovery since Americans won't start buying more until they are earning more.
"It's a symptom of how weak hiring is," said Heidi Shierholz, an economist with the Economic Policy Institute, a left-leaning research group. "Employers know they don't have to pay substantial wage increases to keep workers."
Average weekly earnings last month fell to $788.56. It's impossible to do exact inflation-adjusted comparisons with previous months until June's inflation rate is released, but June's earnings will be lower than they were in January 2010, Shierholz said.
Earnings are falling because employers are pulling back on hours, while keeping wages essentially flat. The average work week for all employees in the private sector fell to 34.3 hours in June, according to Labor Department data released Friday. Meanwhile, average hourly earnings decreased by 1 cent to $22.99.
The tight employment market means that people are competing to land or hold onto the few jobs that are out there. According to the June jobs report, the economy gained just 18,000 jobs last month, far weaker than expected. The unemployment rate rose to 9.2%.
"There's no bargaining power in this economy," said Frank Levy, an economics professor at the Massachusetts Institute of Technology.