IPad cuts 'dramatically' into laptop PC sales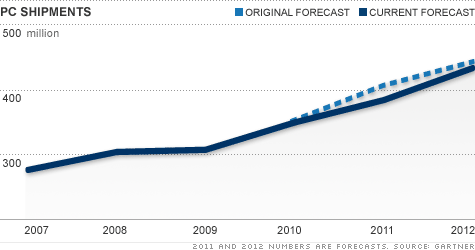 NEW YORK (CNNMoney) -- Tablets aren't killing personal computers yet, but they're making consumers think twice before buying a laptop.
Tech consultancy Gartner on Thursday lowered its PC shipment forecast for 2011 and 2012. The company said soaring tablet sales will result in far fewer notebook and netbook sales over the next two years than it initially expected.
"We expect growing consumer enthusiasm for mobile PC alternatives, such as the iPad and other media tablets, to dramatically slow home mobile PC sales," said George Shiffler, research director at Gartner.
Gartner expects tablet sales of 54 million in 2011. That's a big leap up from the 15 million iPads Apple -- the field's pioneer -- sold in 2010.
As a result of the tablet boom, Gartner said it expects PC shipments in the U.S. and other mature markets to grow less than 10% annually, on average, between 2011 and 2015 thanks to "a general loss in consumer enthusiasm for mobile PCs."
That represents a sizeable shift in Gartner's earlier expectations, which were colored by the belief that consumers would continue buying laptops as their second and third PCs. Gartner reduced its 2011 PC shipment growth forecast a whopping five percentage points, ratcheting it down from 15.9% to 10.5%.
"Consumers are not only likely to forgo additional mobile PC buys, but are also likely to extend the lifetimes of the mobile PCs they retain as they adopt media tablets as their primary mobile device," Shiffler said.
With desktop PC sales flat-lining since 2006, laptops and netbooks have been sustaining the growth in the PC market over the past five years. But with the popularization of cloud computing services like Google (GOOG, Fortune 500) Docs, Flickr and Facebook, a growing number of daily activities can be carried out on a tablet without a full PC operating system.
Tablets are also thinner, lighter, more portable and carry longer battery life than laptops. Apple's iPad 2, unveiled Wednesday, weighs just 1.3 pounds, has a battery that lasts for 10 hours, and it is less than a centimeter thick.
But it's not just the iPad that has consumers excited. There are a full 102 tablets that are either on the market or coming soon. As consumers consider their tablet options, many are taking a wait-and-see approach towards buying a new PC.
Business customers -- who are in the midst of a hardware refresh cycle -- are expected to continue buying new PCs, but even corporations are beginning to consider tablets are legitimate alternatives to PCs. Gartner expects some businesses to delay their PC replacements and instead hand out tablets to their workforce.
Apple (AAPL, Fortune 500), for instance, has noted that the iPad is generating strong crossover interest from business customers. Around 80% of Fortune 100 companies have deployed the tablet for their employees.