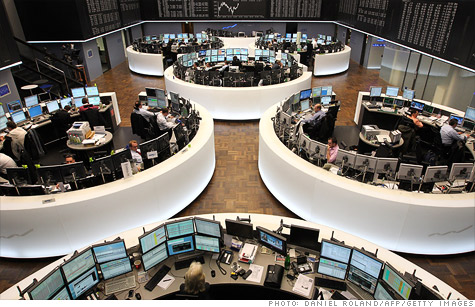 Deutsche Boerse shareholders approved the company's takeover of the New York Stock Exchange.
NEW YORK (CNNMoney) -- The proposed $10 billion takeover of the operator of the New York Stock Exchange has received preliminary approval from Deutsche Boerse shareholders, the companies announced Thursday.
NYSE Euronext said in a statement that 80% of Deutsche Boerse shareholders have tendered their shares, exceeding the required 75% needed to approve the merger.
Last week, shareholders representing at least 96% of NYSE Euronext shares approved the deal.
The development clears the way for the creation of the world's largest exchange for stocks and derivatives.
The deadline for Deutsche Boerse shareholders to accept the offer was Wednesday. The companies said final results will be released Friday.
The deal, which was announced in February, is still subject to approval by regulatory agencies in the United States and Europe.
The Nasdaq OMX Group and the IntercontinentalExchange had proposed a rival bid for NYSE Euronext. But the offer was withdrawn in May after the U.S. government threatened to file an antitrust lawsuit to block the deal.
Under the terms of the deal with Deutsche Boerse, shareholders of NYSE Euronext will trade in their shares, at an exchange rate of one Euronext share for 0.47 share of the German company.
The combined company would be majority owned by Deutsche Boerse shareholders.
The combined exchange would have a total revenue of $5.4 billion, creating the world's largest exchange by revenue.
The exchange would be headquartered in New York and Frankfurt.
Shares of NYSE Euronext (NYX, Fortune 500) were little changed at $38.83 in late morning trading.