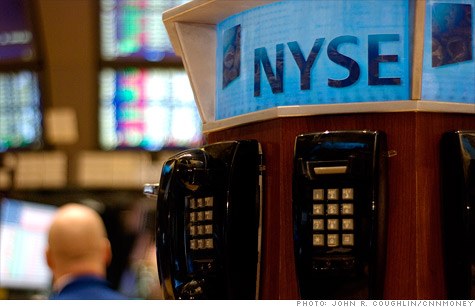 NEW YORK (CNNMoney) -- NYSE Euronext shareholders approved the proposed $10 billion merger with Deutsche Boerse on Thursday, clearing another hurdle in the process of becoming the world's largest exchange for stocks and derivatives.
Shareholders representing at least 96% of the shares approved the deal, according to NYSE Euronext (NYX, Fortune 500).
"This approval is an important milestone in our path to completing this combination, bringing us one step closer to creating the premier global venue for capital raising and a world leader in derivatives and risk management," said Euronext Chief Executive Duncan Niederauer.
The company's stock rose nearly 3%.
Now, the deal must be approved by U.S. and European regulators.
The merger also depends on final approval from the purchasers, the Deutsche Boerse shareholders. In order for the deal to go through, shareholders representing at least 75% of Deutsche Boerse must approve it.
Under the terms of the deal, shareholders of NYSE Euronext would trade in their shares, at an exchange rate of one Euronext share for 0.47 shares of Deutsche Boerse.
The combined company would be majority owned by Deutsche Boerse shareholders.
The combined exchange would have a total revenue of $5.4 billion, creating the world's largest exchange by revenue.
The exchange would be headquartered in New York City and Frankfurt.