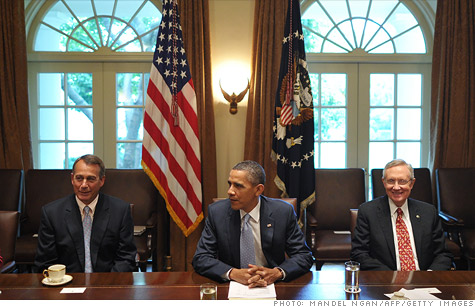 NEW YORK (CNNMoney) -- Senate Democrats and officials from leading business groups have been warned that the country's credit rating could be downgraded even before an interest payment is missed.
An official with credit rating agency Standard & Poor's, addressing a private meeting, laid out a scenario in which the United States would lose its sterling credit rating if it paid interest on its debt but failed to meet other obligations, according to two people familiar with the discussion.
John Chambers, a managing director at credit rating agency Standard & Poor's, briefed Sen. Harry Reid and other lawmakers, as well as officials from the Financial Services Forum and U.S. Chamber of Commerce.
As many as 20 Democratic senators attended the private meeting last week, one of the sources said.
The warning counters the argument that the United States could keep its AAA rating so long as it made interest payments on the debt by prioritizing them above other bills.
Some members of Congress, primarily conservative Republicans, have made the case that eclipsing the Aug. 2 debt ceiling deadline would be merely disruptive, and not the economic calamity predicted by credible experts.
A downgrade has the potential to roil markets, increase interest rates and drive up the government's cost of borrowing.
A representative for S&P had no comment, as the agency does not comment on private meetings.
Chambers' comments reinforce the view of Federal Reserve Chairman Ben Bernanke, who suggested a downgrade was possible if the country only pays interest on the debt to bondholders.
"It's possible that simply defaulting on our obligations to our citizens might be enough to create a downgrade in credit ratings and higher interest rates for us, which would be counterproductive, of course, since it makes the deficit worse," he said Wednesday.
Fitch Ratings Agency said it would put the country on "Ratings Watch Negative" in such a scenario. "Extensive payment arrears to suppliers of goods and services to the government ... would damage perceptions of U.S. sovereign creditworthiness and signal growing financial distress," the agency said in a recent report.
The public pressure on lawmakers to raise the debt ceiling was ratcheted up Wednesday when Moody's, the third major credit agency, said it would put the bond rating of the United States on review for possible downgrade.
Steven Hess, lead analyst for the U.S. at Moody's, said in a statement to CNNMoney that it is unlikely Moody's will downgrade unless the U.S. defaults on its bonds.
Negotiations are set to resume Thursday at the White House after reaching what appeared to be a low point on Wednesday as House Majority Leader Eric Cantor and President Obama squared off over taxes and the size of a deal.
Multiple sources, speaking on condition of anonymity, said Obama told the gathering that "this could bring my presidency down," referring to his pledge to veto any short-term extension of the debt ceiling. Sources say he vowed, "I will not yield on this."
-- CNN's Tom Cohen and Alan Silverleib contributed to this report.