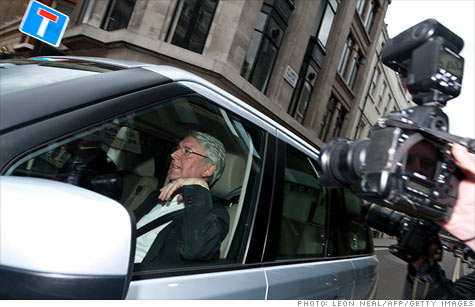 Les Hinton resigned as Dow Jones CEO amid News Corp.'s phone-hacking scandal.
NEW YORK (CNNMoney) -- Les Hinton said Friday he is resigning as chief executive of Dow Jones, the latest development in the phone-hacking scandal that already put Rupert Murdoch's News of the World tabloid out of business.
The resignation makes Hinton the second News Corp. (NWSA, Fortune 500) executive to step down Friday. Rebekah Brooks stepped down as CEO of News International, the corporate parent of News of the World, earlier in the day.
Hinton had been with News Corp. 52 years, and for much of that time played a critical role in Murdoch's media empire. But after Rebekah Brook's departure, he was the next company executive to emerge with a target on his back.
Before heading up Dow Jones, Hinton preceded Brooks as the executive chairman of News International during the same years News of the World was allegedly hacking into voicemails of British celebrities and politicians, as well as a murdered teen girl and the father of a bombing victim.
The FBI is now also getting involved, considering a probe into the news organization amid allegations that Sept. 11 survivors, victims and their families had their voicemails hacked as well.
Hinton announced his departure in a staff memo, saying it is "a deeply, deeply sad day for me." In a separate letter to Murdoch, he apologized for being "ignorant of" the misconduct at News of the World.
"The pain caused to innocent people is unimaginable," said Hinton. "That I was ignorant of what apparently happened is irrelevant and in the circumstances I feel it is proper for me to resign from News Corp, and apologize to those hurt by the actions of the News of the World."
He added that he had believed the "rotten element at News of the World had been eliminated" by the time he left News International to go to Dow Jones.
In addition to Dow Jones, News Corp. owns outlets including The Wall Street Journal, Fox News and the New York Post. On Wednesday, News Corp. withdrew its $12.5 billion bid to purchase all of British Sky Broadcasting.
The media conglomerate said Tuesday that its board of directors has approved a $5 billion stock repurchase, starting later this year. Share repurchases are typically announced when a company has excess cash and feels its share price is trading at a depressed level.
As Murdoch's media empire took a hit this week, shares of News Corp. slumped nearly 7%.