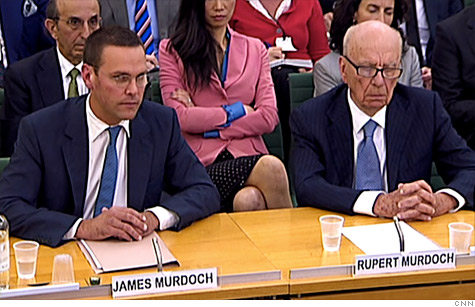 James Murdoch and father Rupert Murdoch appear before Parliament to answer questions about the News of the World tabloid hacking scandal. It did not go well.
NEW YORK (CNNMoney) -- Watching Rupert Murdoch testify in front of the British Parliament Tuesday, two things became immediately obvious.
This is only going to make the phone hacking scandal worse. And it's time for Rupert to cut bait with his first love and give up on News Corp.'s profit-challenged newspaper business.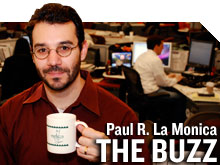 The elder Murdoch, who is chairman and CEO of News Corp (NWSA, Fortune 500)., looked uncomfortable throughout his appearance -- even before someone tried to hit him with a foam plate.
Rupert repeatedly professed to having little dealings with his U.K. tabloids and often gave monosyllabic (yes/no) answers to tough questions from British lawmakers.
Meanwhile, his son James, who is the CEO of the News International unit that oversaw the now defunct News of the World tabloid at the heart of the voicemail hacking, actually came across reasonably well. He was more contrite and had more detailed responses to direct questions.
Still, it remains to be seen whether James' performance is enough to convince shareholders that perhaps he is really more Brian Roberts of Comcast (CMCSA, Fortune 500) than James Dolan of Cablevision (CVC, Fortune 500) and could be a capable News Corp. CEO.
I personally think that barring a knight in white armor return of Peter Chernin, Rupert's long-time top general who was almost universally adored by Wall Street, News Corp. probably needs to eventually elevate current chief operating officer Chase Carey to the CEO slot.
In fact, it seems that investors may be betting on that outcome Tuesday. Despite the fact that Rupert bumbled his way through his Parliament testimony, shares of News Corp. rose about 6% Tuesday following a 4% drop Monday.
Carey, like Chernin -- who left News Corp. in 2009 and now runs his own media company -- is not a newspaper guy. He used to be the CEO of DirecTV (DTV, Fortune 500). He also benefits from the fact that his surname isn't Murdoch, which is proving to be as toxic as any subprime mortgage on Bank of America's balance sheet.
And as anyone who knows how to read a corporate income statement knows, the real growth in News Corp. lies in its broadcast, cable TV and movie assets, not the stodgy world of newspapers (or book publisher HarperCollins for that matter.)
Which brings me back to my second point. It's time for News Corp., with or without Murdoch at the helm, to abandon much of the News in its Corp.
Sure, selling the newspapers won't mean that the hacking scandal is over. This will continue to be a huge story across the pond. There's even calls for blood in the U.S., with members of Congress urging an investigation into whether News of the World also hacked into voicemails of 9/11 victims and their families.
But getting rid of the papers may allow News Corp. to move on and begin the process of putting this sordid mess behind it. It would also probably be a smart financial decision. If nothing else, it would allow the company to focus more directly on assets that actually have more value.
Yes, it would be an embarrassing about face to get rid of all his dead tree operations so soon after purchasing The Wall Street Journal publisher Dow Jones in 2007 for more than $5 billion.
You can tell that Rupert still loves the business. He even conceded in Tuesday's hearing that he spends a lot more of his time with the WSJ than his U.K. papers.
But News Corp. has already written down the value of Dow Jones by $2.8 billion in 2009, a stunning admission that Rupert paid way too much for the company.
And if you look at Murdoch's overall history at News Corp. (which I did extensively in my book Inside Rupert's Brain) you'd quickly realize that he often buys and sells assets more quickly than people flipped houses back in 2006.
The Village Voice. TV Guide. The Los Angeles Dodgers. MySpace. All assets that News Corp. bought and dumped.
As long as News Corp. is a Hollywood media company (with news limited to its Fox cable networks) then it may actually be more appreciated by investors. It would be more like fellow media giants CBS (CBS, Fortune 500), Viacom (VIAB, Fortune 500), Disney (DIS, Fortune 500) and CNNMoney owner Time Warner (TWX, Fortune 500).
The so-called Rupert discount has been a widely discussed phenomenon on Wall Street for years. News Corp. trades for less than 12 times earnings estimates for its next fiscal year. That's lower than the P/E ratios for CBS, Viacom and Disney.
But with the newspapers, even something that still is as widely respected as The Wall Street Journal, News Corp. is a 21st century misfit still paying too much attention to 19th century media.
And the supposed influence that comes from owning papers no longer is enough to outweigh the financial negatives. The papers are now both a slow-growth albatross and a public relations/political quagmire.
Wall Street knows that. Chase Carey likely knows it. And Rupert, in his heart of hearts, probably knows it as well.
The opinions expressed in this commentary are solely those of Paul R. La Monica. Other than Time Warner, the parent of CNNMoney, and Abbott Laboratories, La Monica does not own positions in any individual stocks.