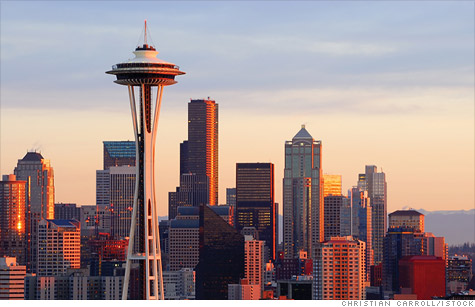 Flights to Seattle can be found for $450.
NEW YORK (Money Magazine) -- Post-recession penny-pinching has kept many Americans from jetting off in recent years. Still, your family has to go on vacation sometime.
Owing in part to pent-up demand, the Air Transport Association expects 1.5% more passengers this summer than last, cruise ships are sailing at full capacity, and hotel occupancy is increasing.
With higher fuel costs pushing airfares about 15% higher now than at this time in 2010 -- and room rates up 7% -- keeping costs down requires a little more strategizing.
Never fear: "There are still great deals available, especially for people who can be flexible on timing and destination," says Bing Travel spokeswoman Kari Dilloo.
Choose alternative destinations. If you're after a beachy European-style getaway, for example, pick Croatia's Dalmatian Coast, on the Adriatic Sea, over Italy's similar but better-known Amalfi Coast. Dubrovnik, right on the water, offers plenty of luxury resorts.
Six nights in an ocean-view room at the five-star Radisson Blu Resort & Spa there will set two people back just $1,500 or so next month (the start of shoulder season), vs. about $6,000 for a comparable place in Sorrento. Meals and other expenses will cost much less too: Croatia isn't on the euro, points out Andrew Young of Travelzoo.com.
To get ideas for other money-saving alternative destinations, go to wanderfly.com
Get going early. True, some airlines are now tweeting or e-mailing same-day promo codes to frequent-flier members (JetBlue has offered 20% off; American, 10%) -- and you'd be smart to follow those feeds.
If you're wangling a family vacation, of course, you're unlikely to have the flexibility to take off at the last minute. So early planning is key.
Seasonal deals for fall travel typically start to pop up this month; for Christmastime travel, it's October, says Bill Miller, Cheapoair.com's senior vice president of strategic partnerships.
Send The Help Desk your budget travel questions.
Interested in a cruise? "Fifty to 65 days before a sailing, cruise lines tend to cut retail prices by up to 20% to fill any unsold cabins," says Rich Tucker, business development specialist for CruiseDeals.com. Those drops typically last for just two to three days -- so be prepared to act fast. Find them on Twitter at @cruisedeals.
Put tech to work. You already know how to search for low airfares via such sites as Kayak.com.
Now take it to the next level: Register for alerts through airfarewatchdog.com or farecompare.com, which will monitor airfares to your preferred destination and ping you if one drops to a level you've specified.
Want to know what price constitutes a good deal? See the fare history for any route on Kayak.com, or check out Bing.com's Rate Indicator tool, which compares the current prices of 5,000-plus hotels in 30 U.S. cities to their 90-day rate history.
HOW MUCH A TRAVEL AGENT MAKES IN COMMISSION ON A HOTEL ROOM: 5% to 10%
What you don't know. Using a human travel agent to plan a complicated itinerary? Airlines no longer pay agents a cent of commission, but many hotels still do -- so agents' lodging recommendations may not be objective.
Check user-generated reviews on tripadvisor.com before agreeing to any hotel.
EXPERT PICKS
From Robert Birge, chief marketing officer at Kayak.com.
Fly for $450 -- Seattle. "Seasonal service from low-cost airline AirTran drives down fares during the summer. Some cross-country airfares to Seattle now cost about 60% less than they did last year. Stay at the Hotel Max [hotelmax.com; rooms with queen beds start at $189 in September], and you're less than 15 minutes by foot from historic Pike Place Market."
Fly for $300 -- Denver. "With lots of competition from low-cost carriers, airfares are way down from a year ago. You can find roundtrip fares from Chicago, Minneapolis, or Raleigh, for example, for under $300. At the four-star Hotel Teatro [hotelteatro.com; rooms with king beds start at $199 in September], the hotel will chauffeur you around downtown free."