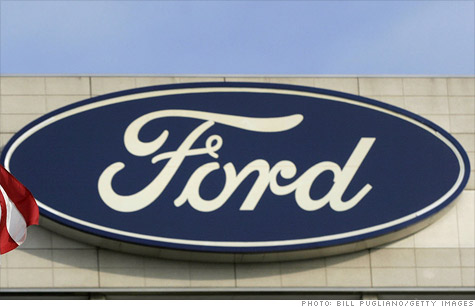 Ford's second-quarter earnings declined 7%, but revenue rose 13%.
NEW YORK (CNNMoney) -- Ford and Chrysler sold more cars over the last three months, but the bottom line results at both automakers were limited by costs.
Ford Motor Co.'s revenue jumped 13% to $35.5 billion in the second quarter, as the number of vehicles sold globally rose 7% and prices increased.
But net income for the nation's No. 2 automaker slipped to $2.4 billion from $2.6 billion a year earlier. Excluding special items, earnings per share slipped to 65 cents from 68 cents a year earlier.
The earnings were better than the consensus forecast of 60 cents a share from analysts surveyed by Thomson Reuters. It even exceeded the most bullish forecast of 63 cents.
Ford (F, Fortune 500) jumped about 2% in early trading, but then gave up most of those gains as the broader markets declined.
Chrysler Group's revenue was $13.7 billion, up 30% from a year ago. The automaker reported a net loss of $370 million in the period, but that was due to a $551 million charge it took when it repaid high-interest debt it had owed the U.S. government as it emerged from the 2009 bailout.
In May, Chrysler announced the repayment of the loans. Earlier this month, the company acquired the remaining stake owned by the federal government, which said it likely lost $1.3 billion on the $12.5 billion bailout.
Excluding that special charge, Chrysler reported income of $181 million, a reversal of the net loss of $172 million it reported on that basis a year earlier.
Chrysler shares are not publicly traded, and are held primarily by Italian automaker Fiat and union-controlled trust funds. Because of that, analysts do not forecast results.
Sergio Marchionne, the CEO of both Chrysler and Fiat, said the company is pleased with the results.
"There is no doubt that Chrysler Group has taken a huge step forward this quarter," he said. "Refinancing our debt and repaying our government loans six years early, reinforces our conviction that we are on the right path to rebuilding this company. We are changing both the image and substance of our company in order to regain the faith of consumers."
Fiat raised its full-year earnings guidance, citing the strong results at Chrysler. Marchionne said the company is a "few days" away from announcing a new shared management structure to run the combined companies.
Ford CEO Alan Mulally also cheered his company's results, despite the lower profit.
"We delivered very good second-quarter results while growing the business globally and serving more customers in every region," said Mulally in a statement.
Last month Mulally set a target for Ford to increase global sales by 50% by the end of the decade through increased offerings and market share in emerging markets such as China.
Tuesday Ford said it expects earnings in the second half of the year will be below the $5.7 billion it made in the first six months of this year. The company cited seasonal trends and continued rises in commodity and structural costs, which should each rise by about $2 billion.
But Ford said that even with those higher costs, the operating margin in its auto operations will continue to improve.
"For weeks, Ford has been signaling that they expect weaker earnings due to higher costs for product development and commodities, which indeed have been on a steady climb," said Michelle Krebs, senior analyst at Edmunds.com. "But Ford also has to maintain an air of modesty with United Auto Workers contract talks kicking off this week."
"The company certainly doesn't want to show that it's flush when the union wants a bigger piece of the profits," Krebs added.
Still, the Ford results were another sign of the turnaround in the U.S. auto industry, which now has all three automakers making money amid rising sales. The first quarter was the first time since 2004 that the traditional Big Three were profitable at the same time. General Motors (GM, Fortune 500) is expected to post strong results when it releases earnings on Aug. 4.