GM posts biggest profit since 2000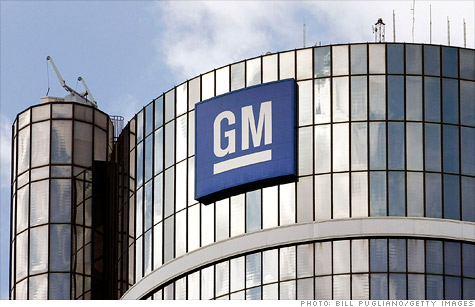 NEW YORK (CNNMoney) -- General Motors posted its best operating results in 11 years in the first quarter, lifted by a jump in sales and strong pricing.
With rivals Ford Motor (F, Fortune 500) and Chrysler Group also posting profits in the first quarter, this the first time since 2004 that all of Detroit's Big 3 automakers have been in the black at the same time.
It is a stunning turnaround for the industry, following federal bailouts and bankruptcy reorganizations at GM (GM) and Chrysler a mere two years ago.
GM earned $3.2 billion in the quarter, up from $865 million a year ago. But roughly half of this quarter's profit came from a one-time gain from sales of the company's interests in Delphi Automotive and Ally Financial's preferred stock.
Excluding those special items, the company still made $1.7 billion, or 95 cents a share, topping the forecast of 91 cents a share from analysts surveyed by Thomson Reuters. It was also GM's biggest profit since earning $1.8 billion in the second quarter of 2000.
GM sold 2.2 million vehicles globally, helping to lift revenue 15% to $36.2 billion, about $600 million more than analysts were expecting.
And the automaker gave a strong outlook for the rest of the year, saying that better pricing and lower costs should outweigh the effects of rising oil prices and changing consumer preferences.
GM executives said that even if gas prices remain high and consumers continue to shop for fuel economy, the company is prepared.
"GM is much better positioned today to meet the demands of consumers seeking more fuel efficient vehicles," said CEO Dan Akerson, pointing to sales of more than 50,000 Cruzes, its new compact car. And he said the Cruze is selling for about $4,000 more than the small car it replaced.
But some of the good news for GM could translate to bad news for consumers. The company is forecasting better pricing, partly because automakers have been cutting back on cash-back offers.
Investors less impressed
Despite the strong results and guidance, shares of GM were down more then 2% in morning trading. The stock had run-up sharply in recent days on hopes that GM would top forecasts by an even greater amount.
Adam Jonas, analyst with Morgan Stanley, described the results out of North America as "disappointing," given the stronger than expected sales and pricing of vehicles in GM's home market.
Shares of GM are once again below the $33 price of the company's initial public offering last November. That's significant for taxpayers as the Treasury Department weighs selling its remaining shares in the company to recoup the money used to bail out GM.
Treasury still owns about one-third of GM shares, and the price would have to rise by more than 60% from current levels for taxpayers to get back all of the money spent on the bailout.
Excluding the special items, GM posted only a modest improvement in income from North America and trimmed losses in Europe. It said it expects its European operations to finally break even this year.
But profits fell in its South American unit as well as its International Operations unit, which includes operations elsewhere around the globe.
Still, the company reported sales gains in every region, as it picked up market share everywhere except South America during the period. Its biggest gain came in China, where sales outpaced GM's U.S. sales for the fifth-straight quarter.
"We believe we are well positioned to take advantage of global industry growth," said Akerson.