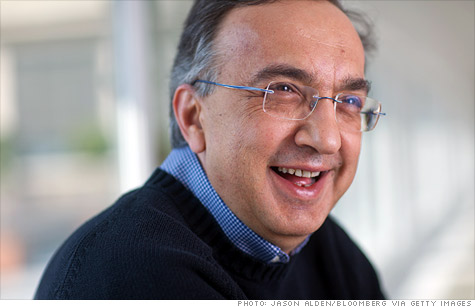 FORTUNE -- After two years of hard work, the merger of Chrysler and Fiat becomes a reality.
On Tuesday, Chrysler will emerge phoenix-like from the fires of bankruptcy as a vital partner of Fiat in a new global auto manufacturing alliance. To a remarkable extent, the vitality and strength of the two companies is the result of the vision and energy of one man: Sergio Marchionne. He alone saw the benefits that would come from a merger and then overcame enormous skepticism to rebuild Chrysler and make it possible.
It is an effort that is all the more remarkable when you remember that just two years ago, Chrysler's survival hung on a thumbs-up or thumbs-down vote by the president of the United States. As reported by Steven Rattner in Overhaul, President Obama went against the advice of some of his economic advisers and ordered that Chrysler be advanced enough money to stay afloat.
The President's actions preserved 38,500 direct jobs at Chrysler and hundreds of thousands more at suppliers and dealers at an especially fragile time for the nation's economy. Those jobs may have eventually been redistributed elsewhere, but the process would have been messy. Since Marchionne took over, Chrysler has created 2,000 more jobs by investing $3 billion in new facilities.
Chrysler has paid back all its government loans, and last week under Marchionne's direction it bought the remaining shares held by the U.S. and Canadian governments. The deal values Chrysler at $8.33 billion. That's a far cry from the $39 billion Daimler paid for Chrysler in 1998 but roughly what Chrysler cost Cerberus in 2007 and a lot better than the pennies on the dollar that a bankrupt Chrysler would have brought.
Tomorrow, Marchionne will reveal more of his future plans for the company. He's already signaled that changes will be coming in accounting, management, and governance.
With the close of the second quarter, Chrysler's financial results and balance sheet will be integrated with Fiat's. Marchionne aims to have the combined companies generate revenue of $140 billion by 2014 -- a big jump from the roughly $92 billion they did in 2010.
Marchionne has also declared his intention to merge the management of the two companies with his 25 top executives. Besides cutting the number of his direct reports in half, the move should make it easier to realize economies of scale.
And he is expected to replace the six government appointees on Chrysler's board of directors, which should allow him to move faster in decision-making.
Right now, Chrysler holds the upper hand in the merger. When results are announced on Tuesday, analysts expect the Detroit automaker's operating profit will be two and a half times Fiat's. Led by Jeep, Chrysler's U.S. sales rose 21% in the first half of 2011, while Fiat's European sales fell 12.7% in the same period.
Chrysler's sales surge has not required fire sale prices. According to Edmunds.com, Chrysler's incentives spending in June was $3,768 per vehicle sold, while much-heralded Ford (F, Fortune 500), with a lineup of supposedly hot new small cars, was $3,647 per vehicle sold.
One part of Marchionne's Chrysler plan that isn't on schedule is an initial public offering. Originally expected in the second half of this year, it now appears to have been put off indefinitely. "We need an additional track record of performance and probably a better equity market than I'm seeing today," Marchionne told reporters in June.
Another question mark revolves around the return of Alfa Romeo to the U.S., a move long anticipated by Alfistas and vital to Marchionne's long-term plans. He recently pushed it back another year to 2013, apparently because he wasn't happy with the design of the debut model.
Marchionne faces an upcoming challenge with the opening of contract negotiations with the United Auto Workers. The Detroit News reported on Saturday that Chrysler will not sign any contract that includes cost-of-living adjustments or similar automatic pay increases. As is his style, Marchionne is expected to directly involve himself in the talks.
Given his success at Chrysler, Marchionne now deserves to join the pantheon of outsider executives alongside Nissan's Carlos Ghosn and Ford's Alan Mulally who turned around failing auto companies. Maybe there is something the local car guys can learn from them.