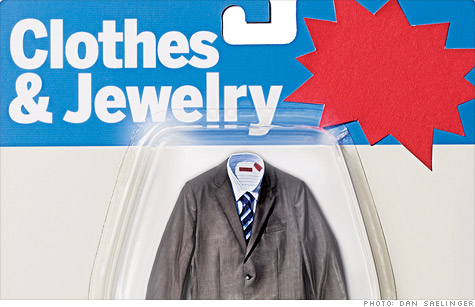 NEW YORK (Money Magazine) -- Prepare for sticker shock the next time you shop for a suit or cocktail dress. Cotton prices have doubled over the past year, pushing up prices on other fabrics as well. That's led apparel retailers to warn about potential price hikes this fall on popular clothing lines.
You'll also find yourself forking out plenty at the jewelry store: Investors' rush to gold led to a 175% run-up from 2006 to 2010 -- and the metal has risen an additional 6% since 2011 began.
Diamond prices? Up 10% last year, according to the Rapaport Group, which tracks them.
Turn to Twitter (and the web). Social media have made online bargain hunting for clothes even better.
CheapTweet.com's Twitter feed is an easy way to follow the site's aggregation of the best deals online based on consumer votes and the number of tweets about the deal. Before heading to an outlet mall, sign up for coupons on its web site; you'll nab discounts of 10% to 25% that you won't find at the store itself.
Give off-price retailers another chance. If it's been a while since you've hit T.J. Maxx, Ross Stores, or Filene's Basement, look again:
Manufacturers are increasingly dumping merchandise via such retailers to meet sales goals, according to a recent report from Avondale Partners, an equity research firm. So you'll find more brands in greater quantities than in the past -- at 20% to 60% off.
Give flash sales another chance too. You already know about Gilt.com, RueLaLa.com, and Haute-Look.com, some of the best sites to find high-end labels for as much as 80% off -- for a couple of days only.
But the store-credit-only return policy was a big negative. As of June, however, all the sites offer full refunds on nearly everything.
Go for 14K, not 18K. Eighteen-karat gold jewelry contains 75% pure gold; 14K contains 58.5%. Yet they look nearly identical. Go for 14K, and you'll save as much as 50%, says John Baird, spokesman for online jeweler Blue Nile.
Avoid fancy stores. They mark up pieces more than you might think: A simple silver bracelet runs $200 at Tiffany vs. $110 for a similar one at Blue Nile
56% of clothes sell for less than full price.
What you don't know. Sale prices may seem like the exception -- but in retail they're the rule.
Clothing stores generally unload less than half their inventory at full price and start sales within a few months of the season. So when you see a garment advertised as "30% off," know that it isn't a true bargain; the retailer has marked up the item 100% to begin with.