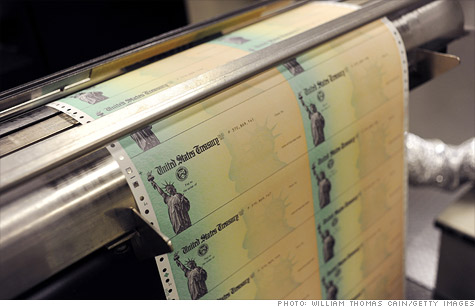 The debt ceiling deal spares Social Security over the short-term.
NEW YORK (CNNMoney) -- Social Security is safe...for now.
The debt ceiling deal hammered out on Sunday doesn't touch the entitlement program in the first round of spending cuts that total more than $900 billion over 10 years.
What happens after that would remain to be seen. A committee of Republicans and Democrats would be tasked with finding another $1.5 trillion in savings, and changes to Social Security could be part of the deal.
If the committee fails to reach agreement, however, automatic cuts kick in and Social Security would be exempt.
Meanwhile, a whole host of safety net programs could also be whacked as part of the debt agreement, which was approved Monday night by the House. The Senate is scheduled to vote Tuesday.
The largest ones, including Medicaid and food stamps, are also protected in the first round of spending cuts. But others, such as housing assistance, child care subsidies, job training and Head Start, could fall under the knife.
Policymakers have not revealed just what cuts are under discussion, other than $391 billion will come from discretionary spending. Other items that could see their spending curtailed include food inspection, worker safety and highway repair, said Craig Jennings, federal fiscal policy director at OMB Watch, which monitors federal spending.
Everything would be on the table for the Congressional committee to consider later this year. Members could slash spending for the poor, the elderly, the unemployed and the disabled. And they'd likely have to reach the required spending cuts without raising taxes, experts said.
"These programs are vulnerable to deep cuts that won't allow them to meet caseload even as the need grows," said Melissa Boteach, an anti-poverty specialist with the Center for American Progress Action Fund, a left-leaning group.
Among the changes to Social Security that the committee would likely consider is reducing the cost-of-living adjustments that recipients receive annually.
Some of the more drastic changes, such as raising the retirement age or amount of wages subject to payroll taxes, would probably not come up because it would take longer than 10 years to see the cost-savings, said David John, senior research fellow at The Heritage Foundation. That's the time-frame the committee would be concerned about.
But other programs would need to be slashed to reach $1.5 trillion in deficit reductions over 10 years. The Social Security change would net only $112 billion, John said.
Federal spending on the 70-plus anti-poverty programs comes to about $700 billion annually, said Robert Rector, a senior research fellow at Heritage. Only a small sliver of it is considered discretionary and thus subject to the initial spending caps.
But all would be up for grabs for the committee. And that means Medicaid, Medicare, food stamps, federal unemployment insurance and other assistance programs could get hit hard.
"You have to start talking about these large programs if you want to get to the numbers on the spending side," said Christian Weller, senior fellow with the Center for American Progress.
But if the committee failed to agree on the larger deficit reduction plan, Social Security would be protected. Spending would be cut automatically, with half coming from the defense budget.
Safety net programs, including Medicaid, federal unemployment benefits and programs for the poor, would be spared. The impact on Medicare would be limited to hospitals and other health care providers, though some argue patients could feel the ripple effects.