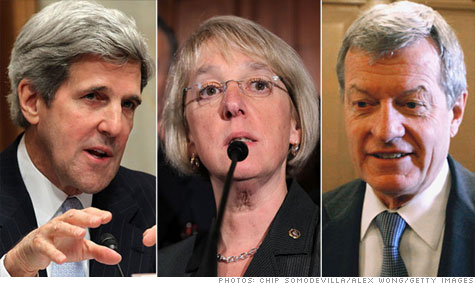 Senators John Kerry, Patty Murray and Max Baucus will join a Congressional debt-cutting committee formed as part of the debt-ceiling deal.
WASHINGTON (CNN) -- Senate Majority Leader Harry Reid made his picks Tuesday for the Congressional "super committee" that will face the unenviable task of finding trillions to slice from the federal budget.
Reid, a Democrat from Nevada, said that he would appoint Senate Democratic Conference Secretary Patty Murray of Washington, Senate Finance Committee Chairman Max Baucus of Montana and Senate Foreign Relations Committee Chairman John Kerry of Massachusetts to the Joint Select Committee on Deficit Reduction.
Murray was tapped to co-chair the committee.
Under the debt ceiling deal passed by Congress and signed by President Barack Obama last week, a panel of 12 legislators -- six Democrats and six Republicans, equally divided between the House and Senate -- will be created to thrash out a plan for up to $1.5 trillion in deficit reduction.
Those cuts will come on top of an initial round of more than $900 billion in spending cuts that have already been locked into place.
If the committee fails to reach agreement, or Congress fails to pass whatever package it recommends, a trigger mechanism will enact further across-the-board cuts in government spending, including for the military.
"As the events of the past week have made clear, the world is watching the work of this committee," Reid said in a prepared statement. "I am confident that Senators Murray, Baucus and Kerry will bring the thoughtfulness, bipartisanship, and commitment to a balanced approach that will produce the best outcome for the American people."
The Republican Senate appointments to the committee, and both the Republican and Democratic House appointments, have yet to be announced.