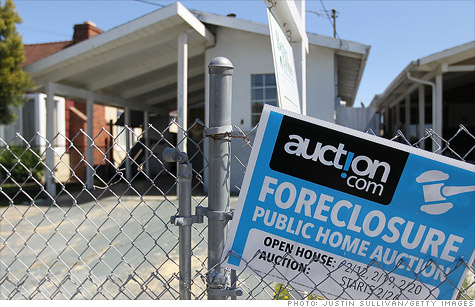 A mortgage foreclosure settlement is being held up by a dispute among the states.
WASHINGTON (CNNMoney) -- A deal to help victims of improper foreclosures has been slow going, in large part because of infighting among state attorneys general over giving banks a free pass from future lawsuits.
The talks are between the attorneys general and federal agencies on one side, and the five largest mortgage servicers, which comprise nearly 60% of the market: Bank of America (BAC, Fortune 500), Wells Fargo (WFC, Fortune 500), J.P. Morgan Chase (JPM, Fortune 500), Citigroup (C, Fortune 500) and Ally Financial (GJM).
Attorneys general in states with stronger fraud enforcement laws, such as New York, Delaware and Massachusetts, don't want to give up the right to go after banks in future fraud lawsuits. And a few other state attorneys general have balked at the draft versions they consider too tough on the banks, according to sources familiar with the talks.
The infighting came to a head Tuesday, when Iowa Attorney General Tom Miller -- who had been leading the talks on behalf of the states --- booted New York Attorney General Eric Schneiderman from an executive team, accusing Schneiderman of "working to actively undermine" a deal with the states.
A call to the New York Attorney General's office was not immediately returned.
At the heart of the talks are wholesale changes in the policies and practices of mortgage servicing that could help consumers, especially those behind on payments. But the banks, while willing to commit to some massive changes, are pushing for immunity from future lawsuits.
Also at stake is a reported $20 billion pot of money, to be collected from the banks, that states could use to modify mortgages and counsel underwater homeowners, according to sources familiar with the talks.
Schneiderman has been tough on the banks. Earlier this month, his office filed a motion to oppose a proposed $8.5 billion settlement between investors and Bank of America and the Bank of New York over bad mortgage-backed securities. Schneiderman called that deal "unfair and inadequate" in court records.
He has his own broad investigation into banks that sold mortgages to investors, zeroing in on some of the same banks involved in the settlement talks. Schneiderman's probe targets the practice of assigning and bundling mortgages into securities, sources familiar with that investigation have said.
And he has said over the past several months that any deal with banks on foreclosure practices shouldn't prevent individual states from their own investigations into the mortgage-servicing industry.
If New York pulls out entirely, it could dampen down any final settlement award. But New York could still back the deal.
The government probe of mortgage servicers followed reports that the institutions were using shoddy documentation to improperly foreclose on homeowners. That news prompted several servicers to halt foreclosures for a short period of time.
The attorneys general launched the probe in October to review improper documentation and mortgage modifications.
Federal government agencies involved include the Department of Justice, the Department of Housing and Urban Development, the Department of Treasury, the Federal Trade Commission as well as the new Consumer Financial Protection Bureau.