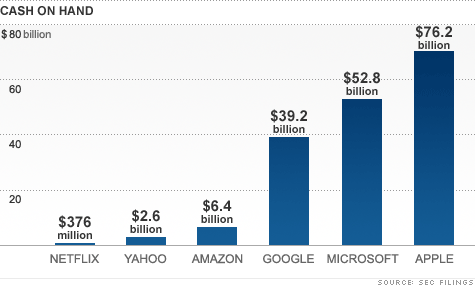 NEW YORK (CNNMoney) -- Netflix's move to rebrand its DVD-by-mail service as Qwikster sets that business up for a spin-off and underscores Netflix's longtime desire to go all-in on streaming. But it's a high-risk strategy: Streaming video has become a very expensive game -- and Netflix's rivals have much fatter wallets.
Studios now want millions more for the content they're providing, and if Netflix won't pay them what they want, they can take their business to a competing service. Google, Amazon, Microsoft and others are all looking to expand their content catalogs, and each has billions on hand to play with.
Amazon (AMZN, Fortune 500) had $6.4 billion in the bank at the end of its last quarter. Google (GOOG, Fortune 500) held $39.2 billion, Microsoft (MSFT, Fortune 500) had $52.8 billion and Apple (AAPL, Fortune 500) held a whopping $76.2 billion. Even Yahoo (YHOO, Fortune 500) could dive in big if it wanted to: It's got $2.6 billion in its cash coffers.
By comparison, Netflix had just $376 million in cash at the end of the quarter.
The big wildcard right now is Hulu, which is on the block and expected to fetch a sale price in the $1 billion to $2 billion range. All of the big players are circling, drawn to Hulu's catalog of current TV series.
"The Hulu sale could prove a catalyst," Barton Crockett, entertainment analyst at Lazard Capital Markets, wrote in a research note Monday.
A Hulu buyer could potentially score exclusive streaming TV rights from current Hulu owners Disney (DIS, Fortune 500), NBC and Fox, Crockett said. That would block Netflix's ability to ink its own TV deals with those studios.
Though Netflix's revenue is growing at a quick clip -- 40% to 50% over the previous year for each of the past few quarters -- it doesn't currently have enough cash to buy Hulu outright. Its best currency is its highly valued stock, (NFLX) which has taken a big battering in recent weeks.
Plus, Hulu's existing owners have a vested interest in keeping it out of Netflix's hands. Netflix says it's committed to spending big to license quality content. That's good news for studios -- but it's even better news if Netflix gets into bidding wars with strong rivals.
Battles on all sides: Beyond the prospect of a major competitor landing Hulu, Netflix has other headaches ahead.
First, the studios want more. When Netflix crept into the streaming video market years ago, it had a much smaller customer base -- one that lulled content owners into a false sense of security. They cut cheap deals, like the one cable network Starz made with Netflix in 2008.
Now, as those deals expire, providers are upping the price big time for the content they're licensing to Netflix. One analyst predicts that Netflix's streaming content licensing costs will rise from $180 million in 2010 to a whopping $1.98 billion in 2012.
And Netflix is losing some of those all-important contracts. Earlier this month, Starz ended contract renewal negotiations with Netflix and said it will pull its movies and TV shows from Netflix early next year.
JP Morgan analyst Doug Anmuth said he expects more TV shows than movies to be added to Netflix's streaming catalog in the coming months. Getting the mix right will be critical: Anmuth cited "increased consumer and investor concern about content quality."
Facing both massive costs for for new streaming content and a struggle to hold on to what it already has, Netflix is showing signs of weakness in an area that was once its greatest strength: customer service. In just two months, Netflix has shifted from a beloved consumer brand to a target of scalding customer wrath.
When Netflix unveiled its price hike in July, customers were incensed and threatened to flee in droves. They've made good on that threat: Last week Netflix cut its subscriber forecast for the current quarter, saying it now expects to end the period with 24 million customers -- down from the 25 million the company forecast just a few weeks ago.
Monday's Qwikster announcement, intended to make amends by explaining why Netflix had to make the change and charge more for its its DVD and streaming services, has instead dumped fuel on the fire.
Aside from all the other issues -- the rising subscription costs, the incompatibility of the two services, Netflix's lack of in-demand streaming content -- customers are offended that a company as savvy as Netflix could choose a name as absurd as Qwikster. "Qwikstupid" caught on fast among those denouncing the plan.
As one Twitter user put it: "Qwikster, noun: The sound of several million Netflix subscribers clicking on their mice to access the 'cancel my account' page."
If splitting the company in half causes even more Netflix subscribers to bail out completely, that will further dry up the sales stream Netflix needs to stay competitive in the content licensing game.
Reed Hastings is revered in Silicon Valley for his ability to plan ahead for the kinds of business shocks most companies play ostrich about and deny until it's too late. This coming year, with its threat of a customer exodus and subsequent death spiral, will be the biggest test yet of his leadership.