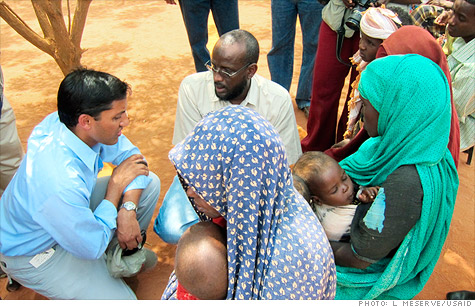 Shah (left) at a refugee camp in Kenya
FORTUNE -- Raj Shah was just 34 and already a rising star when his mentor Bill Gates, in a 2007 Harvard commencement speech, said of the war on global poverty: "The barrier to change is not too little caring; it is too much complexity."
Four years later Shah is applying that lesson to one of the most notoriously bureaucratic bureaucracies in Washington: USAID, the nation's chief dispenser of foreign aid. As President Obama's handpicked director, the 38-year-old medical doctor, former Gates Foundation health guru, and political junkie is determined to inject Gates-style thinking into the $22 billion that his agency ladles into poor nations each year.
"In order to really solve problems, and to get people to join, you have to break them down to their most transparent and simple pieces," Shah tells Fortune. Translation: While it might be daunting to realize that 9 million children under the age of 5 die each year, you can still save 6 million with vaccines.
The other Gates lesson Shah is applying is the need to think on a massive scale. At the Gates Foundation, "it was never good enough to say we are going to do something really good for a few thousand people or even tens of thousands," Shah says. "If the scale of the problem was the 1.1 billion people who live in extreme poverty, you had to push yourself to think about the types of solutions that could reach 600 or 700 or 800 million people."
That requires thinking outside the box inside an agency where, as Shah once said, "many great ideas are lost under the crushing weight of red tape, graft, and corruption ... We write the big check and hire the big contractor, but we never quite solve the big problem."
Shah offers a different vision for foreign aid: Mothers in remote sub-Saharan villages guided by text messages on baby care; farmers in India trading critical information on weather via computer tablets; cell-phone banking in Afghanistan that reduces graft and promotes savings.
Shah grew up in Detroit, an auto industry brat with a taste for Mustangs and anything else produced by Ford (F, Fortune 500), where his dad was an engineer. He earned his MD from the University of Pennsylvania and a master's in health economics from Wharton, but was lured into politics when he joined Al Gore's 2000 presidential campaign. During nearly a decade at the Gates Foundation he was at the forefront of a number of cutting-edge campaigns, including its vaccine program.
Since his appointment nearly two years ago Shah has hired two dozen former colleagues from the Gates orbit to help him change USAID's culture. It won't be easy, and the agency continues to be criticized for slow progress in distressed areas like Haiti and Afghanistan.
On Capitol Hill, foreign aid remains a politically charged budget item, especially in grim economic times. Historically, political support for foreign aid has been secured by doling much of it out to U.S. companies and contractors.
Shah is upending that by implementing programs to buy aid locally, where it's needed. So while he spends much of his time on planes to developing regions, his greatest balancing act may be right here at home.
This article is from the September 26, 2011 issue of Fortune.