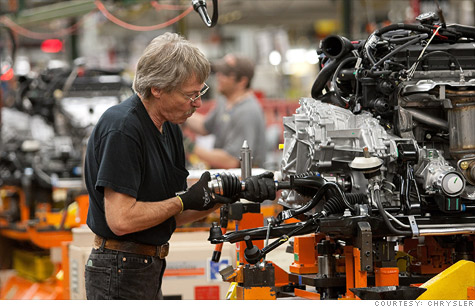 Chrysler Group and the UAW have agreed to a four-week contract extension after failing to reach a new deal.
NEW YORK (CNNMoney) -- Chrysler Group and the United Auto Workers union agreed to another contract extension Wednesday night after an additional week of talks failed to produce an agreement on a new labor pact.
The new extension, which will keep 23,000 UAW members at Chrysler on the job, is for four weeks this time. Chrysler had no comment other than to confirm the extension.
A tweet from UAW vice president Jimmy Settles said the union will now focus on reaching a deal with Ford Motor Co. (F, Fortune 500), the other automaker working under an extension since the previous contract expired Sept. 14. Settles is the union's chief negotiator with Ford.
The union planned to reach a deal with both General Motors (GM, Fortune 500) and Chrysler before turning its attention to Ford, the only automaker that did not need a bailout or bankruptcy process two years ago. But the lack of progress at Chrysler led the union to put those talks on hold for now.
These are the first set of labor negotiations since the bankruptcy at GM and Chrysler led to widespread plant closings and staff cuts. Neither GM nor Chrysler workers are allowed to strike during these talks, as binding arbitration would be used to settle any contract details the two sides cannot agree upon.
The reorganization that took place two years ago allowed all three U.S. automakers to post an operating profit in the first half of 2011, the first time all have been making money at the same time since 2004, despite modest levels of U.S. sales.
Chrysler is still the financially weakest of the three automakers, although it was making enough money to allow it to repay federal loans and repurchase stock held by the Treasury department earlier this year.
The UAW and GM reached a tentative labor deal late Friday night that covered 48,500 union members at the nation's No. 1 automaker. It includes better wages for entry-level workers as well as improved profit sharing. It also includes $2.5 billion in investment in GM's U.S. factories that the union said will lead to at least 6,400 jobs being created or retained at U.S. plants. The union is seeking a comparable deal from Chrysler.
But relations between Chrysler CEO Sergio Marchionne and UAW President Bob King turned sour last week when Marchionne flew in from the Frankfurt auto show to try to conclude negotiations before the contract expiration, only to be left sitting at his headquarters while King tried to conclude a deal with GM instead.
Marchionne then wrote an angry letter to King in which he said "I know that we are the smallest of the three automakers here in Detroit, but that does not make us less relevant." He added that he and King had failed the employees at Chrysler by not reaching a deal before the deadline.
The public display of anger between Marchionne and the union is particularly notable because 46% of share of Chrysler stock is held by union-controlled trust funds that received the stock during the bankruptcy process. Italian automaker Fiat, of which Marchionne is also CEO, controlling the rest.