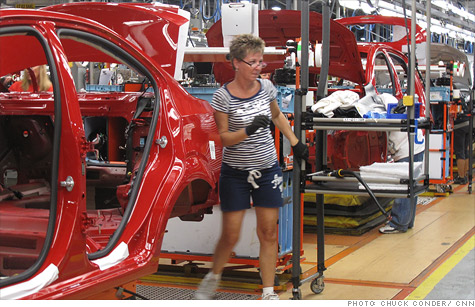 The new GM-UAW labor agreement will create or retain 6,400 jobs at its U.S. plants.
NEW YORK (CNNMoney) -- General Motors will create or retain 6,400 jobs at U.S. plants as part of a new labor agreement with the United Auto Workers union.
Union officials revealed some details of the pact Tuesday, including a $2.5 billion investment by GM (GM, Fortune 500) in its U.S. plants, the reopening of a closed auto plant in Spring Hill, Tenn., and a new full shift at a plant in Wentzville, Mo..
In addition, the company made various product commitments for five other plants, in many cases winning work that would've otherwise been moved to Mexico, and keeping those jobs in the U.S.
"The basics of what we went into this agreement looking for was jobs, jobs, jobs, and I think that's what we came out with," said UAW Vice President Joe Ashton, who led the union's talks with GM.
The union did not provide a breakdown between new jobs and retained jobs, but the broad descriptions of investment commitments in the contract suggest about half the jobs are being added, and half are existing jobs being retained.

The contract also includes $5,000 signing bonuses and improved profit sharing payments for members. UAW President Bob King said that if GM maintains the level of profitability it had last year, members would receive $5,000 in profit sharing each, up from an average of $4,300 they received for last year.
The main goal of all three automakers, was that a greater part of pay and benefit packages would be tied to performance.

GM said the new contract will allow it to be competitive by pegging compensation to company performance and demand. Most experts expected the automakers, which all posted operating profits this year for the first time since 2004, to win a deal that will allow them to stay in the black, even with modest U.S. auto sales.
"We worked hard for a contract that recognizes the realities of today's marketplace, enabling GM to continue to invest in U.S. manufacturing and provide good jobs to thousands of Americans," said a statement from Cathy Clegg, GM vice president, Labor Relations.
UAW President Bob King said the profit sharing improvement was a big win for his members too.
"When GM was struggling, our members shared in the sacrifice. Now that the company is posting profits again, our members want to share in the success," he said.
The union also won an increase in the two-tier wage system now in place at the company, so that 2,400 entry-level workers will be paid $19.12 an hour by the end of the deal, up from $14 to $16 an hour they are now paid. That tier compares to the $28 and $38 an hour veteran UAW members can earn at the Big Three.
Asked if that starting wage of about $38,000 annually for those second-tier workers was enough to satisfy members, Ashton responded, "We're proud of what we did in entry level. They deserve it and we're going to continue to do more."
The tentative agreement reached late Friday, was the first since the federal bailout and bankruptcy at the company two years ago. The agreement needs to be ratified by rank-and-file members before it can go into effect. GM did not immediately respond to a request for comment Tuesday. Companies typically defer to the union leadership during the ratification process.
The contracts between the UAW and GM, Ford Motor (F, Fortune 500) and Chrysler Group had been due to expire at 11:59 p.m. on September 14. The union granted Ford an extension in advance of the deadline, as it concentrated on reaching a deal with GM and Chrysler. The union is expected to seek a slightly better contract agreement from Ford, the only U.S. automaker that didn't need a bailout or bankruptcy protection.
When it couldn't reach a deal by the Wednesday night deadline, the union granted an indefinite extension to the other two automakers as well.
Chrysler CEO Sergio Marchionne was unhappy with his company taking a backseat to GM in the talks, writing an angry letter to King complaining that the two had been unable to meet before the contract expiration. Talks between the top officials at Chrysler and the union are expected to resume early this week when Marchionne returns to the United States. He is also CEO of Italian automaker Fiat, which owns a majority stake in Chrysler.