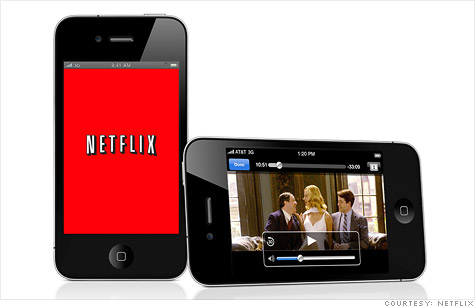 DreamWorks titles will be available for Netflix streaming starting with movies released in 2013. Older movies will be added "over time."
NEW YORK (CNNMoney) -- Two of the key players in the battle for online streaming market, Netflix and Amazon, announced Monday that they've acquired new weapons for their content arsenals.
Netflix has sealed a streaming deal with DreamWorks Animation -- and unlike many contracts, this one is an exclusive.
The multi-year agreement gives Netflix (NFLX) the sole streaming rights to some of DreamWorks' movies and TV specials. But it won't kick in until 2013 -- an eternity in Internet time.
DreamWorks new titles will be available for streaming starting with movies released in 2013. Older movies -- including Antz, Chicken Run, Madagascar 2 and Kung Fu Panda -- will also be made available "over time."
It's a spot of good news for Netflix, which has had a rough year and has been working to ramp up its streaming catalog. The company lost its important Starz/Sony contract earlier this month. And customers -- who are already angry about a Netflix price hike -- have been complaining about a dearth of streaming options.
Some are doing more than just complaining. Two weeks ago, Netflix cut its subscriber forecast for the third quarter by 1 million. In addition, Netflix has been facing ramped-up competition from Hulu and Coinstar (CSTR) as well as big tech players including Amazon and Google (GOOG, Fortune 500).
As a result, Netflix shares are down a scary 51% over the past three months. The DreamWorks announcement gave the stock a boost early Monday, but by midday shares were trading close to flat.
Also on Monday, Amazon announced that its Prime instant video service has scored a contract with Fox. The deal will add more than 2,000 of the network's movies and TV shows to its streaming video catalog.
Amazon (AMZN, Fortune 500) said the titles will be available for unlimited streaming "later this fall" through Prime, a $79 per year service that also includes two-day shipping on tangible goods.
The Fox contract includes streaming rights for movies including Mrs. Doubtfire, Office Space, Speed and Butch Cassidy and The Sundance Kid.
TV shows include 24, Arrested Development, Ally McBeal, Buffy the Vampire Slayer, The X-Files and The Wonder Years.
While the Fox contract bolsters Amazon's catalog, it's not an exclusive deal. Both Hulu and Netflix already had streaming rights for many Fox titles.
Amazon Prime instant video now includes streaming for 11,000 movies and TV shows, including titles from CBS (CBS, Fortune 500), NBCUniversal and Sony (SNE). Amazon also offers an a la carte instant video service, where any customer can choose from 100,000 titles and pay individually to purchase or rent streaming rights.