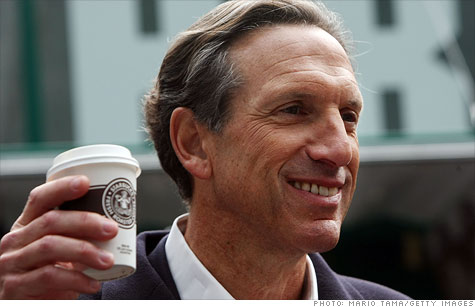 Starbucks CEO Howard Schultz has gotten more than 100 other corporate chief execs to agree to halt all political contributions.
NEW YORK (CNNMoney) -- You know who's really mad at Washington? Corporate America.
Led by Howard Schultz of Starbucks (SBUX, Fortune 500), more than 100 CEOs have signed a pledge to halt all political campaign contributions until lawmakers, as Schultz puts it, "stop the partisan gridlock in Washington, D.C."
Last week, he mounted a one-man bull rush against a political culture that has "chosen to put partisan and ideological purity over the well being of the people."
Schultz said he was going to stop writing checks, and he asked other CEOs to join him.
They have.
AOL's (AOL) Tim Armstrong, Frontier Communications' (FTR) Maggie Wilderotter, Zipcar's (ZIP) Scott Griffith, Whole Foods' (WFM) Walter Robb and Intuit's (INTU) Bill Campbell have all signed up.
The goal is to hit lawmakers right where it hurts: the pocketbook.
"All it seems people are interested in is re-election," Schultz told CNNMoney last week. "And that re-election -- the lifeblood of it is fundraising."
While Schultz's original appeal was to CEOs, he hopes that everyday Americans will join in.
"This is just the beginning of what I think is going to be a groundswell of support to hold back contributions," he said Tuesday.
Schultz's own political donations, as chronicled by the nonpartisan Center for Responsive Politics, skew heavily Democratic. Out of a total $183,650 in donations, only $1,000 went to Republican candidates.
Schultz has said his breaking point was the contentious debate over raising the debt ceiling -- and the failure to reach a long-term solution to lower deficits.
"[Lawmakers] weren't sent there to represent ideology," Schultz said on Tuesday. "They were sent to Washington to represent the people of America."
He said politicians can still make it right by coming together to reach a compromise deal that would lift the cloud of uncertainty that has hamstrung the economy.
"It means reaching a deal on debt, revenue, and spending long before the deadline arrives this fall," his original letter said. "It means considering all options, from entitlement programs to taxes."
The amount of money spent to influence elections has been steadily climbing.
During the 2008 election cycle, more than $5.2 billion was spent by candidates, political parties and interest groups, according to data compiled by the Center for Responsive Politics
In 2010 -- a year that did not include a presidential election -- $3.6 billion was spent. Of course, 2012 has the potential to break all records.
It's unclear exactly how much of an impact -- if any -- Schultz's CEO pledge might have. But a relatively small number of Americans do wield an outsized influence when it comes to political donations.
Only 0.04% of Americans give in excess of $200 to candidates, parties or political action committees -- and those donations account for 64.8% of all contributions.
Schultz hasn't released the full list of executives -- but here is a sample:
Tim Armstrong -- AOL
Ron Baron -- Baron Capital Management
Warren Bennis -- Leadership Institute USC
Bill Campbell -- Intuit
Millard Drexler -- J. Crew Group
David J. Field -- Entercom Communications
Ron Graves -- Pinkberry
Bob Greifeld -- NASDAQ
Scott Griffith -- Zipcar
Alan G. Hassenfeld -- Hasbro
Kevin Johnson -- Juniper Networks
Olden Lee -- PepsiCo (retired)
Jack Lief -- Arena Pharmaceuticals
Miles Nadal -- MDC Partners
Duncan Niederauer -- NYSE
Jamie Shennan -- Trinity Ventures (retired)
Irwin Simon -- Hain-Celestial Group
Barry Sternlicht -- Starwood Capital Group
Walter Robb -- Whole Foods
Frederic D. Rosen -- Outbox Enterprises
Kevin P. Ryan -- Gilt Group
Myron E. Ullman -- JC Penney
Craig Weatherup -- Pepsi-Cola (retired)
Maggie Wilderotter -- Frontier Communications
-CNNMoney's Poppy Harlow contributed to this report.