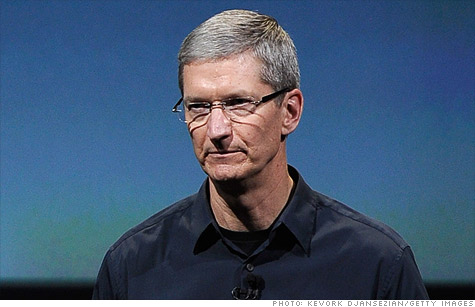 Apple CEO Tim Cook's first product announcement was a disappointment to many -- but analysts still expect record sales.
NEW YORK (CNNMoney) -- Apple's iPhone 4S announcement on Tuesday was surprisingly, well, normal.
Gadget lovers have become accustomed to groundbreaking innovations unveiled at breakneck speed every time the Cupertino, Calif.-based company calls a news conference. Prior to Tuesday, the last five major Apple launch events featured an impressive list of high-profile introductions, including the iCloud, the iPad 2, the new iPod Touch, the iPhone 4, and the original iPad.
Tuesday's announcement was decidedly different. The showcased hardware -- the iPhone, the iPod Nano and the iPod Touch -- all physically stayed the same, even though each product already has spent more than a year on the market. Apple (AAPL, Fortune 500) upgraded their guts and prices and demonstrated some innovative new software, but the gathering felt like much more like an incremental update than the earth-shattering launches that customers have been spoiled with recently.
The conference also lacked Steve Jobs, Apple's revered pitchman. Though Jobs has been absent from previous Apple events due to his declining health, this was the first product announcement for new CEO Tim Cook -- a decidedly less charismatic leader than his predecessor.
Jobs' absence was grimly underscored a day later later, when Apple announced the death of its iconic co-founder. The company will now have to carry on without the famed "reality distortion field" that surrounded his announcements.
"For Tim Cook's first product announcement, it would have been great if it was a big deal," said Jeff Kagan, an independent telecom and technology analyst based in Atlanta. "But it wasn't a big deal. If this is the path Apple is on, it will revert back to an ordinary technology company very quickly."
For most technology companies, incremental updates are the status quo. No one made a peep when Motorola (MMI) upgraded the guts of its successful Droid X smartphone and called it the Droid X2. When Research In Motion (RIMM) introduced its new BlackBerry Torch device, which was practically the same on the exterior with upgraded hardware and software on the inside, the world yawned.
On the other hand...
Of course, Apple is still Apple. One disappointing announcement does not change the fact that it's the most valuable technology company on the stock market, and it's on pace to become the biggest tech company in the world in terms of sales next year.
"Overall, there may be mild disappointment as many were expecting an iPhone 5 with a slightly larger touchscreen and slimmer form factor," said Shaw Wu, analyst at Sterne Agee. "But the reality is that iPhone 4S improves on the already top-selling iPhone 4. For the vast majority, the iPhone 4 proved to be the best smartphone on the market and we believe the 4S is positioned to continue that."
Despite the delays in launching a new version, demand for the iPhone 4 has remained insatiable. Apple sold a record 20 million of the devices in the second quarter, and early analysis points to another record quarter over the past three months.
It might not have lived up to expectations, but many analysts believe the iPhone 4S will continue to set sales records.
"I absolutely doubt people will wait to buy an iPhone because they were disappointed," said Michael Gartenberg, analyst at Gartner. "Most consumers don't read gadget blogs, they just go to the Apple store, and they buy iPhones. And with the lower price points, Apple is giving more people a reason to join the ecosystem."
Some analysts also pointed out that every Apple announcement has been somewhat of a let-down. Though the company typically finds a way to amaze its customers, the devices never quite meet the wildest of expectations. (Remember how Apple was rumored to have been ready to launch the iPad 3 by now?) The stock pulled back a bit after Tuesday's announcement, but that is also typical of these events.
"It's not a disaster; Apple is still going to sell millions and millions of iPhones," said Colin Gillis, analyst at BGC Financial. "There's only one company out there making a lot of money on smartphones, and that's Apple."
Apple may have lost a bit of its luster -- but if this is its new "normal," that's still a perch other tech rivals can only dream of.