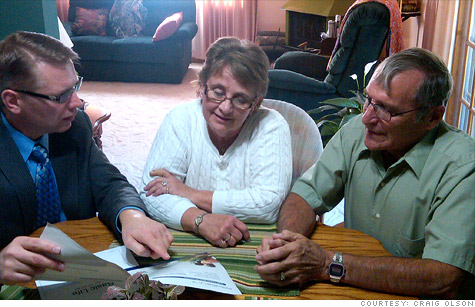 After a long stint of unemployment, former marketing executive Craig Olson now has a commission-only insurance sales job.
NEW YORK (CNNMoney) -- It's a terrible time to be unemployed. Millions of people are out of work and finding a new job can take months, if not longer.
But the jobless may find that the more lasting damage actually occurs when they return to work.
It's common to take a pay cut after a job loss. But the reduced income is likely to be permanent for workers who become unemployed during an economic downturn, a new study from the Brookings Institution shows.
Of workers who lost a job during a time of high unemployment (and had been on the job for three years or more), 75% were still earning less than they did before their job loss, even 20 years later, according to the study. The pay hit is likely to be about $112,000 on average, or 19% of their lifetime earnings.
It's doubtful most of those workers will ever catch up to where their earnings would have been had they been able to stay on the job, said Columbia University economics professor Til von Wachter, one of the authors of the study.
Workers who lose jobs in a good economy also take a hit in pay, but it's far more modest than those who lose jobs in bad times -- only about $65,000, or 10% of their lifetime earnings. And it often takes much less time to return to their previous income level.
Part of the problem is that such a large number of the unemployed during an economic downturn are forced to change fields because the opportunities do not return in their former industry, Von Wachter said. Those workers are essentially forced to start over, which puts them at an income disadvantage.
"If you lose your job during a boom and you stay in the same occupation, your losses are small," he said.
This is a reality that Craig Olson, 47, knows very well. A former marketing executive who lost his job in January 2010 when the software company he worked for was sold, he found nothing available in the marketing field, despite going on about 25 job interviews.
He eventually decided to change careers and accepted a sales position from an insurance firm selling long-term care insurance. He said he knew his first few months in the commission-only job wouldn't pay much, but he's hopeful about the future.
"It's a different mentality from knowing you're going to have a paycheck," he said. "They warn you the first couple of months are going to be a struggle. But if I can pay my mortgage, pay my bills, break even, I'll be happy. But the marketing market is just awful. It challenged me to reframe my thinking."
Olson is still hopeful he'll be back to his former salary level someday, even if it takes longer this time.
But plenty of unemployed job seekers aren't that optimistic.
Maria, 35, who asked that her last name not be used, was making $60,000 a year in 2008 working in conference and event planning. Then the recession hit and she lost her job.
She moved in with her parents, but was only able to find temporary work in the San Francisco area for about $39,000. She's been unable to find a permanent job since then, and is thinking about going back to school to try to change careers.
"I may be struggling to get back to that level," she said. "By the time the economy turns around there will be 25-year-olds willing to work for less. At least I don't have a mortgage and a family to support."