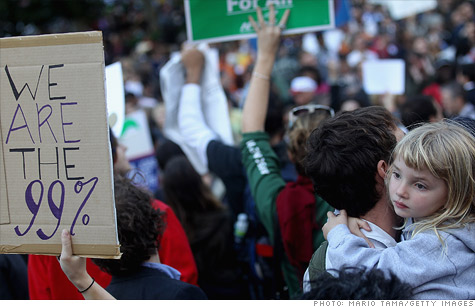 Occupy Wall Street protesters: "Frustrated" Americans or "mobs"?
NEW YORK (CNNMoney) -- The Occupy Wall Street protests have sparked another fight -- between Republicans and President Obama.
Speaking Friday at a "Values Voter Summit" in Washington, House Majority Leader Eric Cantor called the protesters a "mob" and suggested they had been encouraged by the Obama administration.
"This administration's failed policies have resulted in an assault on many of our nation's bedrock principles," he said. "If you read the newspapers today, I for one am increasingly concerned about the growing mobs occupying Wall Street and the other cities across the country.
"And, believe it or not, some in this town have condoned the pitting of Americans against Americans," he added.
His remarks come the day after President Obama expressed sympathy to the views of protesters.
Obama defended the decision to bail out banks and Wall Street during the meltdown in the financial sector in 2008, saying not doing so would have caused far greater damage to the economy. But he said he understands the backlash against that bailout now being voiced in the protests.
"I think people are frustrated, and the protesters are giving voice to a more broad-based frustration about how our financial system works," he said.
And the president used another question about the protests to criticize Republican efforts to roll back the Dodd-Frank financial industry regulations passed last year.
"You've got Republican presidential candidates whose main economic policy proposals is, we'll get rid of the financial reforms that are designed to prevent the abuses that got us into this mess in the first place," he said. "That does not make sense to the American people. They are frustrated by it."
After Cantor's remarks Friday, White House press spokesman Jay Carney said the Republican leader's criticism of the Wall Street protests was "hypocrisy unbound," when compared to his support of Tea Party protests. He said both were examples of American democratic traditions.
"I don't understand why one man's mob is another man's democracy," Carney said.
Cantor's remarks follow an interview by Republican presidential candidate Herman Cain on Thursday, who told a Wall Street Journal video show that the protestors were "anti-capitalism" and that he believed they were being orchestrated simply to distract from failed economic policies of the Obama administration, although he admitted he had no evidence to back up that charge.
"Don't blame Wall Street. Don't blame the big banks. If you don't have a job, and you're not rich, blame yourself," he said.