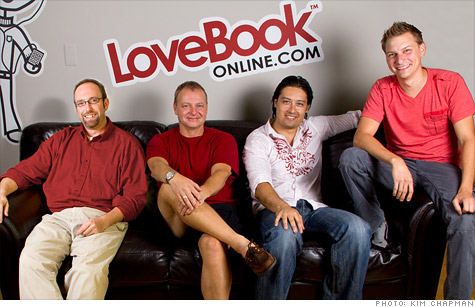 From Left to Right: LoveBook founders: Rob Patterson, John Baranowski, Chris Sonjeow and Kevin Zalewski
NEW YORK (CNNMoney) -- Scribbling and doodling into a lined notebook he picked up at a drugstore, Rob Patterson detailed all the reasons he loved his wife.
Instead of mocking Patterson, three of his male buddies turned those sweet gestures -- which his wife deemed the most romantic gift she'd received -- into a rock solid business.
At LoveBookOnline.com, where Patterson is CEO, users create personalized books for spouses, girlfriends or boyfriends, containing illustrations and text (relating to a couple's inside jokes or personal history).
The books cost between $29.95 and $44.95.
"We wanted to help the hopeless romantic guy who didn't have a romantic bone in his body and needed some help," said Chris Sonjeow, chief marketing officer, who has a computer-animation degree and formerly worked as an illustrator at an advertising agency. "It really gets to the personal side of why we care about each other. These are therapeutic devices couples can use to connect."
In May, LoveBook, based outside of Detroit in Royal Oak, Mich., and founded in 2006, crossed over the million-dollar-revenue mark.
People often associate Detroit with the automotive industry, and as a result look down on LoveBook, Sonjeow said. "But the tech community here is taking off," he said. Their geographic location didn't provide easy access to venture capitalists or angel investors, leading them to put up $13,000 of their own money.
The four co-founders were having so much fun they didn't even notice they'd hit the milestone. That same month, an appearance on the "Today Show" put a serious spike into sales. Valentine's Day sales earlier this year had created a snowball effect.
"We had so much momentum -- work, the product and making improvements -- we just kind of rolled over (the milestone) without much fanfare," Sonjeow said.
How did crossing the $1 million mark change their lives?
"We were always wondering, 'How many of these could we sell in a day?'" said Kevin Zalewski, chief technology officer. "We were finally able to quit our day jobs and do this full-time."
They recently hired two art directors, bringing their employee count to six, and are learning from a few bumps in their business plan. While one advantage to an e-business is ease in capturing user statistics, eyeing those stats too closely caused them to not pay enough attention to revenue.
Typical of most startups, each employee wore many hats and shared accounting tasks. Nobody knew specifics about cash flow, return on investments and monies owed. Fortunately, the company was in good financial shape.
A $10,000 ad for LoveBook that ran online hadn't turned profitable, yet none of the employees found out until later, because the job of watching that ad hadn't been delegated.
After the $1 million mark, LoveBook hired an accountant. Sonjeow built tools to better track marketing efforts. "We know down to the dollar what this ad cost us and how much revenue it brought in," he said.
John Baranowski, LoveBook's chief information officer, who worked as director of IT at an engineering firm, handles most of the company's technical needs.
What typically brings users to LoveBookOnline.com is the hunt for an anniversary gift.
Kristin Lewnes, of Annapolis, Md., discovered LoveBook while clicking around online for the perfect first-year anniversary gift. "I had so much fun putting it together -- thinking of reasons why I love my husband -- and then creating fun stick figures to correlate to those reasons," she said.
A prolific writer, she emailed back and forth with Sonjeow to make sure there wasn't a cap on the number of pages. "He said you could have as many pages as you want for the same price, so I made a hardcover book with about 144 pages."
"When I go to bed at night I know I'm going to bed happy, because other people are happy in their relationships," Sonjeow said.
Sonjeow admits LoveBook has saved his marriage. He has on more than one occasion pulled out the Love Book during an argument with his wife. After flipping through it together, the fight becomes history.