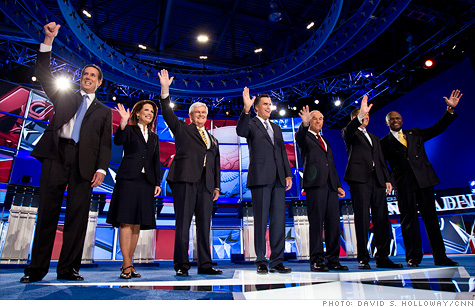 The 2012 Republican candidates make the case again and again: Regulations are killing jobs.
NEW YORK (CNNMoney) -- Want to help the economy and create jobs? Well, roll back those government regulations! It's a talking point trumpeted by nearly every Republican politician. But would less regulation really spur hiring?
The story goes like this: Thanks to the Obama administration, a wave of new government regulations are strangling business to the detriment of hiring and economic growth.
But in an economy with serious structural problems, a crippled housing market and slack demand, is government regulation really holding back the labor market?
Not so much, according to government data and surveys of business owners and economists.
Only a small percentage of employers report regulation as a reason for laying off workers.
In the first two quarters of this year, only 2,085 new unemployment claims were attributed to government regulation, while 55,759 were tied to insufficient demand, according to Bureau of Labor Statistics data on mass layoffs.
Furthermore, less than 20% of small business owners cite government regulations as their most important problem, according to a survey by the National Federation of Independent Business.
Poor sales, for example, were a much bigger worry.
And a CNNMoney survey of economists conducted in the second quarter delivered similar results. Only a couple of the 16 economists questioned said government regulation was the biggest drag on the labor market.
Gary Burtless, a labor economist at the Brookings Institution, said there is little evidence to suggest that government regulations are killing jobs.
"There is a lack of confidence that demand would exist for the extra products businesses would produce by increasing hiring," Burtless said.
So if not regulations -- what is the biggest problem? One prime suspect is a lack of demand for the goods and services that businesses produce.
"I think it's pretty plain that there hasn't been a robust rebound in consumer consumption," Burtless said.
And Burtless said complaining about regulations is not something new for the business community -- which can of course lower costs and increase profits if regulations are repealed.
"There are certain businessmen who say regulation is an issue, but they also said the same thing when the economy was robustly growing," Burtless said.
But there is an additional wrinkle to the Republican argument: It's not just the regulations already on the books that are causing trouble. Instead, it's an anticipated wave of new rules coming down the pike.
"The real cost at the moment is the business community can't figure out how much regulation is coming," said Douglas Holtz-Eakin, a former director of the Congressional Budget Office.
Two measures -- the 2010 health care law, and the Dodd-Frank financial reform law -- are at the center of that complaint.
Burtless doesn't find the "uncertainty" argument convincing.
"Those laws haven't gone into effect yet. How are those things limiting jobs?" he asked. "I think you've got to actually make the case that lots of regulations have sprung up since January 2009 to make this complaint carry very much water."
That doesn't mean regulations don't raise costs for business. They do. Still, they are not the biggest drag on the labor market.
"In the end, if you've got money pouring in hand over fist, additional costs of any sort look insignificant," Holtz-Eakin said.