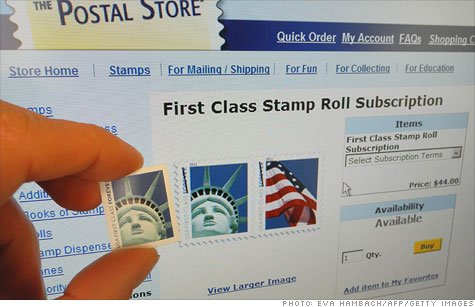 The price of postage will increase next year.
NEW YORK (CNNMoney) -- Snail mail is about to get a little more expensive.
The price of a first class stamp is going up by one cent starting next year, the United States Postal Service said Tuesday.
Forever stamps -- also called first class stamps -- will now cost 45 cents, a one cent bump. The change will go into effect Jan. 22.
That's not the only change: Postcard postage will increase 3 cents to 32 cents. Letters to Canada and Mexico will jump 5 cents to 85 cents, while letters to other international destinations will spike 7 cents to $1.05.
Already hemorrhaging cash, the move should bring in more revenue for the Postal Service.
"The overall average price increase is small and is needed to help address our current financial crisis," Postmaster General Patrick Donahoe said in a statement. "We continue to take actions within our control to increase revenue in other ways and to aggressively cut costs."
The Postal Service is in a precarious position.
USPS mail volume declined 20% in the four year period through fiscal year 2010 resulting in net losses of over $20 billion.
In fiscal year 2010, the Postal Service suffered a $8.5 billion net loss, compared to $3.8 billion the prior year.
Hundreds of thousands of postal workers could soon lose their jobs, or face drastic changes to their benefits.
USPS appealed to Congress earlier this year, asking for the removal of collective bargaining restrictions in order to lay off 120,000 workers.
It also wants congressional approval to replace existing government health care and retirement plans.