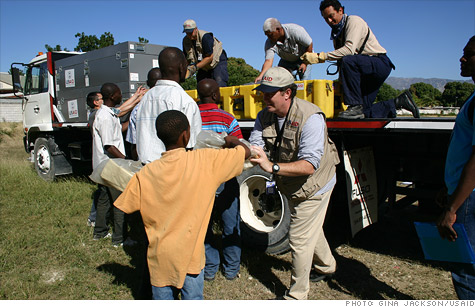 USAID workers passing out supplies in Haiti.
NEW YORK (CNNMoney) -- Cutting foreign aid is definitely back in vogue.
"We're spending more on foreign aid than we ought to be spending," Mitt Romney said during Tuesday's CNN debate.
Here's Ron Paul: "On foreign aid, that should be the easiest thing to cut."
And Rick Perry said it's time to have a serious discussion about defunding the United Nations.
A common sentiment on the campaign trail, cutting foreign aid is frequently cited as a step toward solving the nation's budget woes.
True enough. But it would be a really tiny step.
Less than 1% of government spending goes to foreign aid, according to the U.S. Agency for International Development. That's chump change compared to other sections of the bloated federal budget -- like spending on entitlement programs or the military.
But politicians still love to hate foreign aid. Part of the reason is that the American people do, too.
Sixty percent of people questioned in a CNN/ORC poll conducted earlier this year said they'd like to put foreign aid on the budget chopping block.
At the same time, the public grossly overestimated how much the U.S. is spending on foreign aid.
Americans estimate that foreign aid takes up 10% of the federal budget, and one in five think it represents about 30% of the money the government spends.