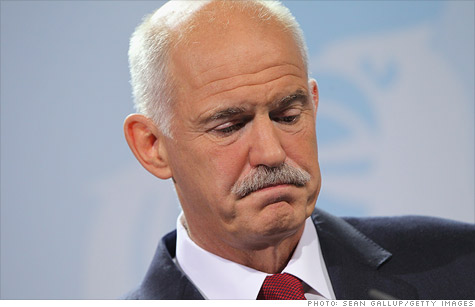 Greek prime minister George Papandreou stunned the global markets by announcing a referendum on the Europe debt deal. If Greek voters reject the deal, Greece could default.
NEW YORK (CNNMoney) -- How does one say "Oy vey!" in Greek?
I'm starting to think that the nasty NBA lockout will end -- or in related news, Kim Kardashian will meet, marry and divorce another out-of-work hoops player -- before the Europe financial soap opera finally ends.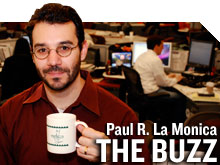 Greece dropped a major bombshell on the markets late Monday. Greek prime minister (and Cliff Clavin look-alike ... Norm!) George Papandreou announced there would be a national referendum vote on the bailout agreement reached last week by European leaders.
"I am surprised by this development. It seems to have come out of left field," said David Joy, chief market strategist with Ameriprise Financial in Boston.
The fear is that Greek citizens, who are already unhappy with the austerity measures in place, may reject the debt deal because they don't want the government to force even more belt-tightening.
World markets plunged on the news. U.S. stocks followed suit, with bank stocks unsurprisingly taking it on the chin.
The bankruptcy of MF Global (MF), largely due to exposure to bad sovereign debt in Europe, has investors wondering who else could get hurt by the PIIGS of Portugal, Italy, Ireland, Greece and Spain.
The euro, which had recently regained some strength versus the dollar, fell about 1.5%. The euro is now down nearly 4% since Greek lenders agreed to a 50% haircut on their debt holdings. So much for a weaker dollar propping up profits of large U.S. multinational firms.
And then there's the reaction in the global bond markets. Yields on 10-year Greek debt surged to a whopping 24.5%. In Italy, which investors worry could be a nightmare waiting to happen that's infinitely worse than Greece, 10-year bond yields are above the troublesome level of 6%.
Meanwhile, yields on the benchmark U.S. 10-year slipped back below 2% and German 10-year yields dipped to just 1.75% as investors ate up Treasuries and bunds in yet another flight to quality/safe haven trade.
Get used to more dramatic market swings like this.
"This ensures that the market will remain volatile because of the latest sentiment in Europe for the next few months," said Joy.
The market now has to once again contend with the hated U-word: Uncertainty. Is a chaotic Greek default back on the table? Or can Greek debt still be saved by some sort of structured bailout package? Uhhh .... yes?
"I still think it's a long shot that Greece will leave the EU. But now it's in their hands as opposed to what Germany, France and others might have wanted. They control their own destiny," said Jamie Heighway, a market analyst with Western Union Business Solutions in Chicago.
First we need to find out if Papandreou and his government survive an upcoming vote of confidence, which could come as soon as this week. After that, investors will have to wait and see what the results of the referendum are ... and that vote is reportedly not going to be held until January. Happy holidays!
"Greece needs the money, and the risk of a disorderly Greek default is clearly higher today than yesterday," Joy said. "But we just don't know how the referendum vote will go. It's a mess."
It goes without saying that the collapse of last week's deal could be disastrous. Investors will rightfully be nervous about bigger losses for banks that have ties to Greek bonds.
"It's still a dynamic situation, but if the plan gets rejected we're back to square one. Actually, it could be worse than square one. Greece could default," said Eric Viloria, senior currency strategist with FOREX.com in Bedminster, N.J.
But Greece could be only the beginning. Investors now have to wonder if citizens of other European nations will also pull their support for the deal -- which could essentially amount to the unraveling of the euro zone as we know it.
"This is far more serious than the bank contagion that we are trying desperately to avoid. If a Greek referendum prevails, it's hard to imagine there not being calls for similar votes in other European nations," said Daniel Alpert, managing director of Westwood Capital, an investment bank in New York.
You'll notice that the word "if" is sprinkled throughout many of the quotes. And that's the big problem. All that investors can do at this point is guess about what the future holds for Europe. That's a heck of a lot more terrifying than anything you probably saw on Halloween yesterday.
Heighway said he's hopeful that Greek voters will not undo last week's deal. But that isn't comforting investors yet. The euro was below $1.37 against the dollar Tuesday and Heighway said the next key level to watch is $1.35. If the euro falls below that, who knows how much more it will drop?
"Uncertainty is the word of the year. I hate to beat it to death. But it's impossible to say what's next," Heighway said.
The opinions expressed in this commentary are solely those of Paul R. La Monica. Other than Time Warner, the parent of CNNMoney, and Abbott Laboratories, La Monica does not own positions in any individual stocks.