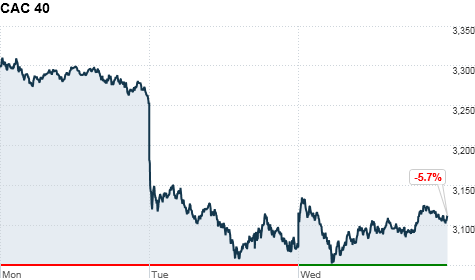 Click on chart to track markets
NEW YORK (CNNMoney) -- The uncertainty over Greece's continuing role in the eurozone weighed heavily on Asian markets Thursday, but European markets ended higher in reaction to the European Central Bank's decision to cut interest rates.
The Nikkei in Tokyo and the Hang Seng in Hong Kong both closed lower by more than 2%. But the CAC 40 (CAC40) in Paris was up 2.8% at the close, the DAX (DAX) in Frankfurt surged 3% and the FTSE 100 (UKX) rose 1.3%.
The European markets surged after the European Central Bank said it will cut rates by a quarter percentage point, its first rate cut in two years.
But Nick Stamenkovic, fixed income strategist with RIA Capital Markets in Edinburgh, Scotland, urged caution ahead of the extreme uncertainty regarding Greece's fate with the eurozone.
"To make bets ahead of the referendum tomorrow is extremely risky," said Stamenkovic, expressing skepticism as to whether the rally could sustain itself. "It could just be a dead cat bounce."
The rally could also be a seesaw reaction to the pathetic showing earlier this week, when news of the impending Greek referendum prompted a global sell-off
The fate of Greece is likely to be decided with a referendum vote in December. A vote against the debt deal reached last week could mean that the Mediterranean nation will leave the eurozone.
At the Group of 20 Summit Meeting in Cannes, France, German chancellor Angela Merkel and French president Nicolas Sarkozy said they'll hold off on providing Greece another installment in bailout funding until after the country holds its referendum vote.
Even the referendum vote itself is uncertain. In order to have the vote, Prime Minister George Papandreou must first pass a vote of confidence on Friday.
"Perhaps the good news is that we have a date to look forward to, but to get all the bailout loan terms/conditions ready early enough for voters to be able to consider properly is ambitious," wrote Deutsche Bank analysts Jim Reid and Colin Tan in a research note.
"Still, before we get there Papandreou will need to win the confidence vote late on Friday to avoid an early election," they said.
The European contagion dragged down Wall Street early in the session, but U.S. stocks eventually pulled out of their slump. The Dow Jones industrial average (INDU), Nasdaq (COMP) and S&P 500 (SPX) rose nearly 1%.
European bank stocks managed to shrug off the uncertainty and get a lift from the ECB rate cut. French bank Credit Agricole surged 7% and Societe Generale edged up slightly, shedding earlier losses.
U.S. banks were mostly higher, recovering from anemic trading earlier in the session. Citigroup (C, Fortune 500) rose more than 1%, while Bank of America (BAC, Fortune 500) and JPMorgan Chase (JPM, Fortune 500) rose slightly. But Morgan Stanley (MS, Fortune 500) dropped more than 1%.