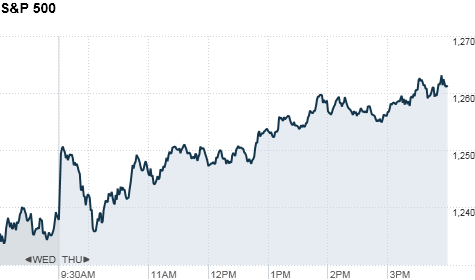 Click chart for more markets data.
NEW YORK (CNNMoney) -- Stocks closed significantly higher Thursday, giving the market its second day of gains. Investors focused on the European Central Bank's surprise rate cut and mostly shrugged off fears over Greece.
The Dow Jones industrial average (DJIA) moved up 208 points, or 1.8%. The S&P 500 (SPX) gained 23 points, or 1.9%, and the Nasdaq (COMP) added 58 points, or 2.2%.
Stock rallied from the start of trading following the rate cut, the ECB's first in two years. Political wrangling in Greece didn't deter investors. It remains unclear whether or not Greece will put its bailout to a public vote.
The ECB's rate cut gave investors some hope that incoming ECB President Mario Draghi might be more willing to intervene to buy bonds or take other steps to help the market. Still, Draghi steered clear of comment on that issue during his first press conference Thursday morning.
Draghi managed to also briefly rattle the markets when he said that Europe appeared poised to head into a mild recession. Stocks, however, quickly rebounded.
In late afternoon, the leader of the main Greek opposition party called for Prime Minister George Papandreou to step down and for snap elections to be held within six weeks. The move by Antonis Samaras undermines the idea that there is a consensus on the austerity measures attached to a European bailout package.
Worries about Greece had been tempered earlier in the day after Greek Prime Minister George Papandreou backed off plans to hold a referendum on the nation's bailout, following an emergency cabinet meeting.
Papandreou said the referendum would not be necessary if the opposition supported austerity measures.
Meanwhile, shares of investment banking firm Jefferies (JEF) were temporarily halted after the stock dropped roughly 20% on fears about the company's European sovereign debt exposure.
Investors have been closely watching Jefferies for any signs of trouble since the Chapter 11 filing of MF Global (MFGLQ). Jefferies' stock retraced some of its losses after the firm outlined its net exposure to the debt of Portugal, Ireland, Italy, Greece and Spain.
U.S. stocks finished sharply higher on Wednesday, snapping back from two days of steep declines.
Economy: The Labor Department said weekly jobless claims eased by 9,000 to 397,000 last week, which was slightly better than execrated.
Productivity of U.S. workers rose 3.1% during the third quarter, after falling 0.7% the prior quarter. Labor costs fell by 2.4%. Both readings were better than expected.
The government's monthly report on factory orders beat expectations. Analysts surveyed by Briefing.com expected factory orders to have dropped 0.2% in September, but instead they rose 0.3%.
Companies: Investors fled many retail stocks after many October same-store sales reports came in lower than expected. Abercrombie's (ANF)stock closed down roughly 20%.
Shares of Qualcomm (QCOM, Fortune 500) climbed after the chipmaker issued a better-than-expected sales forecast for fiscal 2012, citing growing demand for smartphones.
Alpha Natural Resource's (ANR) stock rose after the coal producer topped earnings and sales estimates, and boosted its coal shipment guidance for the year.
Shares of Estee Lauder (EL, Fortune 500) also edged up on a positive earnings report.
DirecTV (DTV, Fortune 500) shares closed higher after the satellite TV provider drew in a record number of subscribers during the quarter, driving sales up 14% to surpass estimates.
Shares of Limited Brands (LTD, Fortune 500) slipped after the retailer's October same-store sales rose at a slower pace than analysts were expecting.
Groupon is slated to price its IPO late Thursday and begin trading on Friday morning, according to several news reports. It will trade on Nasdaq under the ticker symbol GRPN.
World markets: Britain's FTSE 100 (UKX) closed up 1.1%, the DAX (DAX) in Germany spiked 2.8% and France's CAC 40 (CAC40) gained 2.7%. The euro also gained traction, rising 0.4% versus the dollar.
Asian markets ended mixed. The Shanghai Composite (SHCOMP) edged up 0.2%, while the Hang Seng (HSI) in Hong Kong sank 2.5% and Japan's Nikkei (N225) dropped 2.2%.
Currencies and commodities: The dollar was lower against the euro, the British pound and the Japanese yen.
Oil for December delivery rose $1.56 to $94.07 a barrel.
Gold futures for December delivery rose $35.50 to $1,765.10 an ounce.
Bonds: The price on the benchmark 10-year U.S. Treasury fell slightly, pushing the yield up to 2.07% from 2.01 late Wednesday.
-- CNN's Elinda Labropoulou in Athens, Greece, contributed to this report.