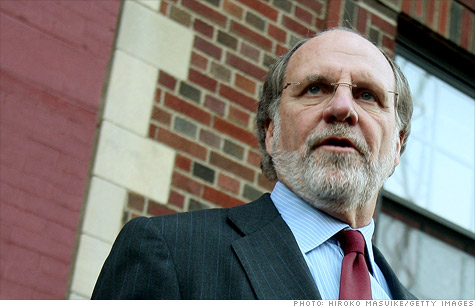 MF Global head Jon Corzine may be called to give testimony in the firm's bankruptcy case.
NEW YORK (CNNMoney) -- The trustee in the MF Global case Friday won the power to subpoena executives of the bankrupt brokerage firm and other parties in the case following revelations that more than $600 million in customer funds have allegedly gone missing.
Bankruptcy Court Judge Martin Glenn also rejected a request by attorneys for MF Global to participate in any depositions that the trustee takes in the case. (MF Global: Sorting through the debacle.)
The attorney for the trustee had objected to that request from the bankrupt brokerage firm.
"It is important that we have the authority to begin our investigation quickly," said James Kobak, attorney for the trustee, "In our view it is not appropriate for other parties to be looking over our shoulder as we do this work."
Eric Ivester, attorney for MF Global, argued the firm needed information from the trustees' as quickly as possible in order to be able to recover the greatest amount of assets for its creditors.
"It's not to impede the investigation or look over the shoulder of the trustee, but to do what we're required to do, which is maximize value," he told the judge.
But Glenn rejected the argument, stating in his decision that "an investigation...cannot be performed effectively if the trustee is required to reveal his...methodology or documents or information is discovered." In this case, he said, "there have already been serious allegations of potential misconduct by MFGI...The trustee must be able to investigate these allegations without any interference from parties of interest."
The ruling could force former New Jersey governor and former MF Global (MFGLQ) CEO Jon Corzine to provide testimony over the alleged irregularities at the firm. Corzine resigned as CEO of MF Global on Friday.
Government officials said this week that $633 million was discovered missing from MF Global's customer's accounts after the firm filed for bankruptcy on Monday.
The brokerage came under pressure last week after revelations of its holdings of risky European debt spooked investors. This past weekend, executives at MF Global had been scrambling to sell the firm to Interactive Brokers Group, (IBKR) but the missing money scuttled the deal and forced it into bankruptcy.
The CME Group (CME), operator of the nation's largest commodity exchanges, said MF Global broke government and CME rules requiring it to keep its customers' funds separate from its own assets.
CME says the $633 million in question must have gone missing in the past week since they had conducted an audit just days prior to the disclosure of the missing funds.
The FBI and federal prosecutors are investigating the situation, according to sources close to the probe.
-- CNNMoney reporter James O'Toole contributed to this report