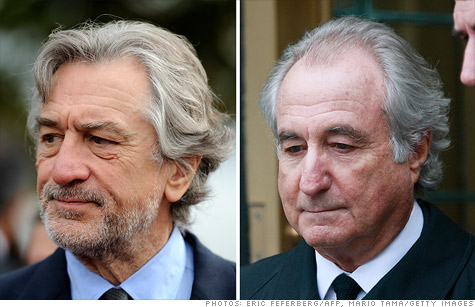 Robert DeNiro is slated to portray Bernie Madoff in an upcoming HBO film.
NEW YORK (CNNMoney) -- Robert DeNiro's played a lot of crooks in his time -- from Vito Corleone to Al Capone -- and now he's tackling yet another: Bernie Madoff.
DeNiro is slated to star in an HBO production that will give Madoff and his $20 billion Ponzi scheme the Hollywood treatment.
The HBO biopic, which is in early stages of development and has not yet been green-lighted, will be executive produced by DeNiro and his partner Jane Rosenthal, through their company, Tribeca Productions, according to HBO spokesperson Nancy Lesser. The movie will be based mainly on the book "The Wizard of Lies: Bernie Madoff and the Death of Trust" by Diana Henriques.
Tribeca Productions was started by DeNiro and his partners in 1989 and started the Tribeca Film Festival in 2001. It is the production company behind such films as "Wag the Dog," "Meet the Parents," and "The Good Shepherd."
Madoff was arrested in December of 2008 and pleaded guilty three months later to cheating more than 16,000 investors out of billions of dollars. Madoff is currently serving a 150-year prison sentence at the Butner Federal Correctional Complex in North Carolina for masterminding the largest pyramid-style scheme in U.S. history.
Recently, Madoff and his family have resurfaced in the media.
Stephanie Madoff Mack, the widow of Madoff's son, Mark, who committed suicide last year, published a memoir, and made the rounds on news shows promoting it. Then Madoff's wife, Ruth, appeared on CBS's "60 Minutes," in which she told of attempting to commit suicide with her husband in 2008.
Madoff himself sat down for a jailhouse interview with ABC's Barbara Walters, revealing he is, "happier in prison."