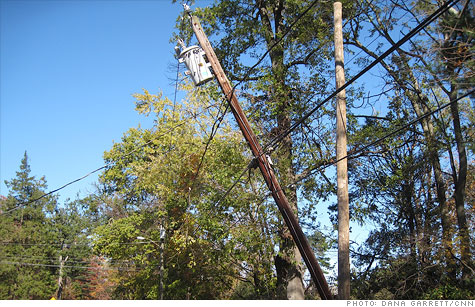 It took over two weeks for the millions who lost power in October's freak blizzard to get their electricity back. Burying power lines may help, but it costs a million dollars a mile.
NEW YORK (CNNMoney) -- October's freak blizzard knocked out power for over 2 million people in the Northeast. In Connecticut, the hardest hit state, all the power lines weren't fixed until just last week.
Storms have always wreaked havoc on the power grid. But thanks to new technology and a growing trend to bury power lines underground, utilities are hoping to both cut the number of people who lose power in a storm and the length of time they are in the dark.
The best way to make a power line more resistant to an outage is to bury it.
In Connecticut, 90% of power outages are caused by falling tree limbs, said Connecticut Light and Power spokeswoman Katie Blint.
Underground lines fix the tree problem. But there's a catch, says Connecticut Light and Power: It costs at least a million dollars a mile to bury an overhead power line.
Connecticut Light and Power is a subsidiary of Northeast Utilities Company (NU, Fortune 500).
It's hard to get an estimate as to just how much it would cost nationwide -- there are over 3,000 utilities in the country. Often, they each use different technology from one another.
In Connecticut alone, 75% of Connecticut Light and Power's 17,000 miles of line are above ground. At a million a mile, that's nearly $13 billion to put them all underground.
"It's a very, very expensive proposition," said Jim Owen, spokesman for the Edison Electric Institute, the national utility trade association. "At the end of the day, customers would have to bear the price of it."
And burying lines comes with its own problems. While fool-proof against falling trees, they are still subject to outages caused by moisture. And when they fail they are harder to find and fix.
Still, spurred by greater reliability and a desire for better aesthetics, most towns nationwide now require power lines in new housing developments to be buried along with other utilities like phone, Internet, water and sewage systems.
It's more expensive than running the lines above ground, said Owen, but not nearly as expensive as burying an existing system.
Fortunately for customers, there are other technologies in the works that aim to make above-ground lines more resilient.
As part of the smart grid revolution, interconnected sensors are being added to power lines. The sensors can both limit the number of homes affected by an outage and shorten the time it takes to get the power back on.
Known as 'self-healing' technology, so-called smart grids employ devices such as a recloser, which can reclose the electric circuit and restore power to areas past a downed tree, said Ben Kellison, a smart grid analyst at GTM Research.
Reclosers have been around for over 40 years, said Kellison, but not in widespread deployment.
Other devices can be helpful too.
Line sensors can detect changes in electrical wave formations, indicating where blowing tree limbs are getting too close to the power line. Utilities can hopefully be alerted to a potential problem months in advance and send a crew out to clear the branches.
Line sensors have also been around for a while, but what's now rapidly advancing is the analytical software necessary to alert the utility to the problem in advance.
With this new technology, "The number of customers affected is going to change dramatically," said Kellison, "as is the time."
But this all may take a while to roll out.
Thanks to the number of different utilities out there, and that fact that they all use quite different technology, Kellison said these types of smart grid innovations will be gradually added to the electric grid over a period of one or two decades.