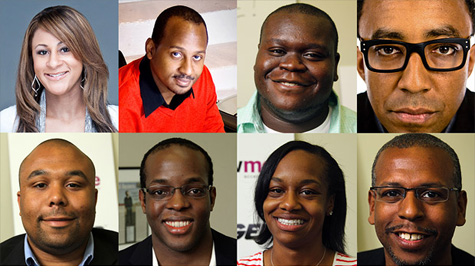 The NewMe Accelerator brought eight entrepreneurs together for two months in Silicon Valley.
NEW YORK (CNNMoney) -- Silicon Valley's startup scene is mostly young, male and white. In response, the NewMe Accelerator brought eight black tech entrepreneurs together for a two-month immersion program in San Francisco.
CNN chronicled their experience in "The New Promised Land -- Silicon Valley," a Black in America special, which premiered November 13 and is re-airing November 19 at 8 p.m. EST.
CNNMoney caught up with the startup founders to find out what they've been up to in the three months since the accelerator program ended.
Out of the eight startups developed at NewMe, two have recently attracted funding.
In October, NewMe participant Hank Williams took on the first outside investor for his self-funded cloud-data search engine, Kloud.co. He declined to name the amount or the investor, but said Kloud.co is continuing its fundraising and will talk more when the process is complete.
Meanwhile, Kloud.co and its four-person staff are gearing up for a late January launch. "My team has been working on this product full-time for the last almost four years," said Williams, who is based in New York City.
BeCouply, a startup founded by Pius Uzamere and his girlfriend Becky Cruze, received a small round of "pre-seed" funding from Lotus co-founder Mitch Kapor and angel investor Roham Gharegozlou. Immediately following the NewMe program, Uzamere and Cruze moved to San Francisco to work on the startup, which is aimed at enhancing couples' dating lives.
Uzamere declined to comment on how much money BeCouply raised, but it's enough that he and Cruze are able to focus full-time on their venture. He thinks NewMe provided a crucial jump-start: "It would have taken a lot longer to meet the right people and build up our network," Uzamere said.
NewMe co-founder Angela Benton has put her startup, Cued, on hold since the program ended.
"The startup I'm focusing on right now is the NewMe accelerator," Benton told CNNMoney.
Benton moved to San Francisco in September to organize the next cycle of the accelerator, which is being sponsored by Google (GOOG, Fortune 500). The next NewMe class, which is now open for applications and begins in February, will work out of the Googleplex.
She also hopes to launch a "NewMe Community" program, which will feature workshops and courses across the company.
"We want to capitalize on the moment because it's gotten so much feedback," Benton said. "NewMe Community will foster that and allow people to set up their own meetups across the country."
Most of NewMe's participants live outside the Bay Area and have returned home -- but several, like Benton, plan to relocate to the tech epicenter. Wayne Sutton, NewMe's other co-founder, is back in Raleigh, N.C., at the moment but plans to move to Mountain View, Calif., this winter to help manage the program's second cycle.
He's taking online coding courses to learn the technical skills he needs to build his tweet-a-recommendation venture, Vouch.
"I want to build it myself, so I'm learning a new programming language," Sutton said.
Other entrepreneurs are determined to keep building in their hometowns. "It's opened up a lot of doors in the Detroit area for me to work with a lot of the startup community here," said Hajj Flemings, the founder of online identity platform Gokit.
Flemings is hitting the networking circuit, seeking funding to move his venture forward. He's also recruiting for a designer and hopes to launch his website by the first of the year.
"We started product testing, and we're working with a small group of testers now and getting feedback," Flemings said.
He is also focused on keeping the conversation about race in Silicon Valley going. Flemings organized local screenings of "The New Promised Land -- Silicon Valley"with high school students from Detroit to discuss the "pipeline issue" and share his experiences as a participant in the first minority-led accelerator in Silicon Valley.
"That's one of the parts of having that experience -- bringing that to other students," he said.
Anthony Frasier, founder of Playd, which is like a Foursquare for video gamers, also decided not to relocate. The Newark, N.J., native moved back to nearby Montclair after NewMe ended.
"There's a lot to be done here," Frasier says. "I get e-mails from people in this area saying they're proud of me. If I leave, I'm not really setting a great example. I feel I should stay and help bring awareness in tech. I want to help them learn."
Frasier launched a beta version of Playd in Apple's (AAPL, Fortune 500) App Store just last week, with a full version due in December. He's also working on an Android app.
Frasier had "a little bit of funding" before he entered the accelerator, and he hasn't received any since the program ended. But he says money isn't the focus right now. Instead, he'll push for capital after the full Playd launch next month.
"User feedback is just as much of a success as a press release saying we raised a million dollars," he said. "I'm out there and I'm really going hard. I'm doing this for the gamers -- these are my people. I'm not doing it for black people, I'm not doing it for white people. It's not about race."

The New Promised Land: Silicon Valley, the fourth installment in CNN's Black in America series reported by Soledad O'Brien, will re-air November 19 at 8 p.m. ET. Watch the trailer on CNN.com, and check out CNNMoney's full coverage of the project.