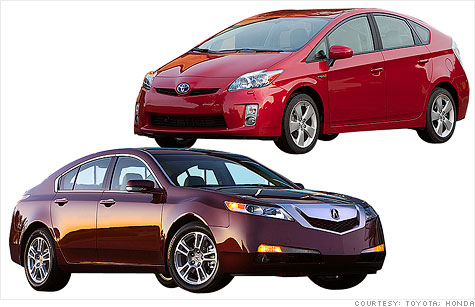 (MONEY Magazine) -- Got the urge to splurge on a shiny new ride?
Now's your chance to swap your old vehicle for this year's model. Because of used-car shortages and new-car incentives, the price gap between new and used cars has sharply narrowed over the past year.
Two- to five-year-old vehicles jumped 10% in value since a year ago, according to the National Automobile Dealers Association; new-car prices, after deals, are up a mere 2%, says Edmunds.com.
Drying up the used supply are smaller rental-car fleets and individuals' inclination to drive cars longer.
Buying a new car? Send The Help Desk your questions.
Trade-in values are up, especially for newer, fuel-efficient models, reports KBB.com. New-car deals are fueled by Japanese automakers trying to reclaim pre-earthquake market share and U.S. firms unloading gas-hungry stock.
So, for example, a new Toyota Prius costs just 24% more than a two-year-old used one; a year ago, that gap was 48%, according to AutoTrader.com. A new Acura TL is 37% more than a used model, vs. 56% more last year.
For the best trade-in, go to independent used-car dealers itching for inventory, or to dealers for the brand you're selling, not buying; they can unload your auto more easily, says Jonathan Banks, analyst at NADA Used Car Guide. You'll be on your way to new wheels for the new year.