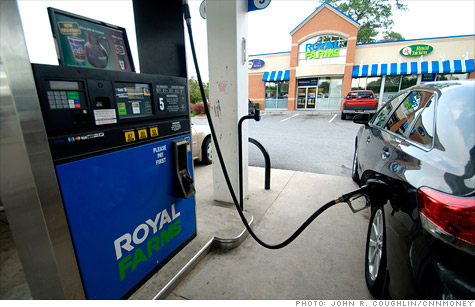 EPA says 54.5 mpg target by 2025 model year will raise the price of cars but fuel savings will make it pay off for consumers.
NEW YORK (CNNMoney) -- New federal gas mileage rules proposed Wednesday will add thousands of dollars to the cost of new cars. But in the long run, regulators say, drivers will spend less on gas, outweighing the additional cost at the dealership.
The rules aim for an average gas mileage of 54.5 miles per gallon by the 2025 model year. That target had previously been disclosed by the EPA this summer.
Wednesday it released its cost estimates attributable to the new rules.
The price for 2016 though 2025 model year vehicles will increase by about $1,946 per vehicle. Other rules set to take effect in the intervening years would add about $1,000 on top of that. Those cost estimates are in today's dollars.
But the agency said that consumers would save an average of up to $6,600 in fuel costs over the lifetime of a 2025 vehicle, even after paying the more expensive purchase price, assuming gas prices are comparable to today's prices. Car buyers should be able to recoup the higher purchase price through fuel savings in less than four years, the agency said.
Even if a buyer is financing the price of a car and paying interest on the increased purchase price, the EPA estimates a savings of about $140 a year from the fuel savings.
"These unprecedented standards are a remarkable leap forward in improving fuel efficiency, strengthening national security by reducing our dependence on oil, and protecting our climate for generations to come," said U.S. Transportation Secretary Ray LaHood.
The major automakers, both U.S. and foreign-based, have essentially endorsed the new rules, as has the United Auto Workers union and many members of Congress from the automaking states in the Midwest.
"We expect this program will not only save consumers money, it will ensure automakers have the regulatory certainty they need to make key decisions that create jobs and invest in the future," LaHood said.
But some in the industry, including the trade association for auto dealers, expressed concerns.
"This regulation gambles that millions of consumers will be able to afford thousands more for generally smaller, more expensive vehicles that may not meet their needs," said the National Automobile Dealers Association in a statement Wednesday.
NADA also says most car buyers aren't choosing fuel efficient vehicles. "This policy is contrary to what most consumers are actually buying today, despite the wide availability of more fuel efficient models."
The NADA said if the price of new vehicles rises too much, it could discourage new car purchases and limit the environmental advantages of the rules by keeping older cars on the road.
"The number one question that must be asked is: How many people will no longer be able to afford a new vehicle if the government raises the price of a new car by about $3,000?" the group asked. But it stopped short of coming out in opposition to the rule.
"We will analyze the rule with this principal question in mind. We urge Congress to do the same," it said.
Going forward there will be a public comment period. Once that ends, a final rule will be enacted. Rules can take effect without any Congressional vote.
Jeremy Anwyl, CEO of Edmunds.com, said one of his worries about the new rules is that regulators may be underestimating the actual cost automakers will have to pay to achieve the fuel standards. He worries higher prices won't help them recapture the $140 billion in total estimated development costs.
American car buyers traditionally have not valued fuel economy as worth very much, he said.
"Fuel prices right now are pretty high and we're seeing demand for fuel efficient vehicles waning," he said. "I think the risk is that the regulations require the automakers to build vehicles that may not line up with the cars drivers want to buy. That's not a good thing."