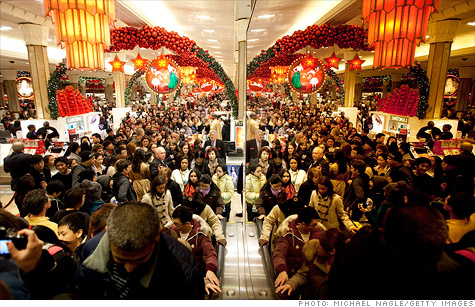 NEW YORK -- Earlier than ever store openings and steep discounts helped retailers notch record sales this Black Friday weekend, according to early reports.
Total spending over the four-day weekend following Thanksgiving reached a record $52.4 billion, up 16% from $45 billion last year, according to a survey by the National Retail Federation released Sunday.
A record 226 million consumers shopped in stores and online between Thursday and Sunday, up from 212 million last year. Individual shoppers spent more too, the NRF said. The average holiday shopper shelled out $398.62, up from $365.34 in 2010.
Earlier openings at big-box retailers like Wal-Mart (WMT, Fortune 500), Toys R Us and Target's (TGT, Fortune 500) was one factor boosting sales -- particularly among men and young adults, according to the early tally. Nearly one-quarter of Black Friday shoppers were at stores by midnight on Black Friday, up from only 9.5% in 2010, the NRF said.
"I would say that means we will have to be on the look-out for a new tradition and that is more and more stores will be opening on Thanksgiving night next year," Marshal Cohen, chief industry analyst at the NPD Group, said in a statement.
In a separate survey released Saturday, ShopperTrak said retail sales on Black Friday alone climbed 6.6% this year to an estimated $11.4 billion.
Online retailers also played a bigger role this year with a slew of deep discounts and promotions well before Cyber Monday. Online sales were up 39.3% on Thanksgiving Day and 24.3% on Black Friday compared to the same days last year, according to IBM's (IBM, Fortune 500) Coremetrics, which tracks real-time data from 500 retailers in the apparel, department store, health and beauty and home goods categories.
Cyber Monday could also notch a new record, according to online tracking firm ComScore. Online sales for 2011 are projected to hit $1.2 billion, up from $1 billion last year, Andrew Lipsman, ComScore's industry analyst, said.
While Black Friday marks the unofficial start of the holiday season, it is still too early to say whether this consumer spending momentum will continue until Christmas, noted NRF spokeswoman Ellen Davis.
"Clearly people came out in droves and that's good news, there's no question -- but it's only part of the story" said Sherif Mityas, partner in the retail practice of A.T. Kearney, a New York-based consulting firm. "We still have more than a few weeks to Christmas and if everyone is done shopping, the holiday will be a failure."
Overall, the NRF is still forecasting overall holiday retail sales to increase a modest 2.8% during the months of November and December to $465.6 billion.