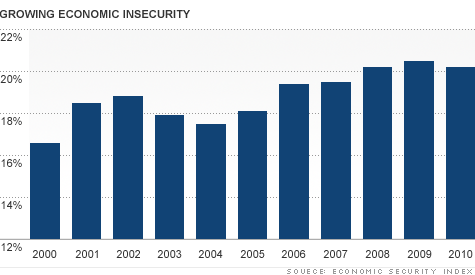 NEW YORK (CNNMoney) -- More than one in five Americans saw at least a quarter of their available household income vanish each year during the Great Recession, and they lacked a sufficient financial cushion, according to a report released Monday.
The situation has left them economically insecure, according to the report, which updates an Economic Security Index created by Jacob Hacker, a political science professor at Yale.
More than 20% of the nation faced this condition in each of the three years spanning 2008 to 2010, a sharp increase from 14.3% in 1986. Some 62 million Americans faced economic insecurity last year.
Many of the people who suffered in the economic downturn are in the middle class.
"The middle class is facing much more instability and health care [cost] risk than a generation ago," Hacker said.
The Great Recession is also prompting deep losses among the insecure, with the median drop in income for this group hitting a record 46.4% in 2009.
Hacker, who launched the Economic Security Index with a team of researchers last year, looks at three measures to determine insecurity: major income loss, out-of-pocket medical expenses and the lack of savings. He considers available income to be money left over after paying health care costs and debts.
Based primarily on Census data, the index measures annual income changes.
The index is yet another indicator of the toll the Great Recession has taken Americans' financial well-being. The economic downturn prompted the poverty rate to soar to 15.1% in 2010, the highest level since 1993. And the median household income fell to $49,445 last year, when adjusted for inflation, a level not seen since 1996.
Meanwhile, roughly 13.9 million Americans remained unemployed, 42% of whom had been out of work for 27 weeks or longer.
While economic insecurity increased across the board, Hacker's index found some groups suffered more than others during the downturn. Those living in the West and the South were more on the edge than those in the Northeast and North Central part of the country.
Young adults, age 18 to 34, proved to be the most insecure group during the recession, with a rate of nearly 25%. The next most vulnerable folks were those age 45 to 64, with a rate of just under 20%.
Nearly a quarter of African-Americans and Hispanics faced economic insecurity. By comparison, fewer than one in five whites were in the same boat.
The lack of an education also made a major difference, with 25.8% of Americans in households headed by someone who never graduated high school experiencing a major economic setback, compared to 15.8% of someone with post-college education.
Health care costs have contributed mightily to economic insecurity. The median household spent about 36% more for medical expenses than its counterpart in 1986.
Economic insecurity had been rising even prior to the Great Recession, Hacker found. Between 1986 and 1996, the average share of Americans facing insecurity was 16%. In the following decade, it rose to 17.6%.
Going forward, Hacker expects the figures to decrease unless the nation experiences another spike in unemployment, since that's a primary driver of income loss. However, he estimates it will take six years for the typical person to return to their previous security level.
"Recovery from a downturn like this will be much slower for the individual and for the country as a whole," he said.