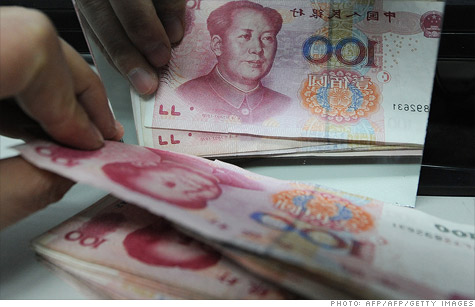 China's central bank reversed course on the banking industry, lowering the the reserve requirment ratio by half a percentage point to free up lending.
NEW YORK (CNNMoney) -- China is cutting the amount of money banks need to hold in reserve, freeing those funds to stimulate the Chinese economy.
The People's Bank of China said Wednesday it will lower its reserve requirement ratio for financial institutions by half a percentage point. It was the first such cut in the ratio since 2008, and a change in course after the ratio was raised five times this year.
The cut is effective Dec. 5.
The move is intended to increase liquidity, ramping up the flow of money into the economy to make up for concerns about slackening demand for Chinese products both domestically and abroad, particularly from Europe.
China has experienced rapid growth recently, leading many to worry that the economy could be overheating and runaway inflation could take hold. In response, the government had taken several steps to control soaring inflation without stifling growth.

Since last year, China has lifted interest rates five times and bank reserve requirements nine times, and has also imposed limitations on homebuyers.
Today's move was seen as a reversal of that policy, indicating that the Chinese economy could be at a tipping point.
In the latest signal that China's economy is slowing down, Chinese manufacturing has hit a 32-month low, according to a preliminary report for November.
On Tuesday, UBS released a report that lowered their growth forecast for China next year to 8% from 8.3%.
The lowering of the reserve requirement is also viewed as a harbinger of more aggressive moves by the Chinese government to get the economy going.
"We see this as a decisive shift in policy stance from China," wrote Mark Williams, chief Asia economist for Capital Economics in London, in a report for investors. "Further reserve requirement cuts will follow over the next few months. Bank lending will pick up."
The decision to lower the reserve requirement appeared to be responsible for a boost in the U.S. premarkets, as international investors anticipate a flow in fresh cash.
"The move will ease constraints on bank lending," Williams wrote. "The level of excess reserves had dropped very low."
Williams said that lowering the reserve requirement by half a percentage point was equivalent to injecting 400 billion yuan, or $63 billion, into the banking industry.
He said the impact on lending will be slow and gradual, probably not taking effect until the first quarter of 2012.
--CNN's Andrew Stevens contributed to this report.