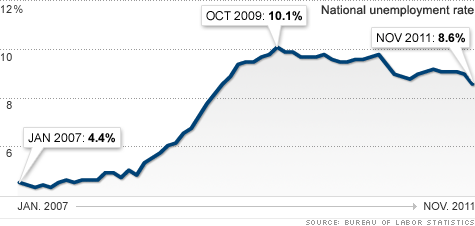 Employers added 120,000 jobs in November, sending the unemployment rate down to 8.6%.
WASHINGTON (CNNMoney) -- Hiring accelerated in November, and unemployment unexpectedly plummeted to its lowest rate in nearly three years.
The unemployment rate fell to 8.6%, the Labor Department reported Friday, the lowest rate since March 2009 and a huge drop from 9% just a month before.
The decline was much better than expected. Economists surveyed by CNNMoney had predicted the unemployment rate would remain unchanged.
So why did the unemployment rate fall? Two reasons: yes, more Americans got jobs, but at the same time, even more people gave up on their job searches altogether.
It might be a little too early to start celebrating though, said Paul Ballew, chief economist for Nationwide. The rate could easily tick higher again, as more people enter and leave the workforce.
"It's always important to keep in mind, the unemployment rate can bounce around, depending on who is actively looking for jobs," Ballew said.
And the "who" in this case is telling.
Men were mostly the ones landing jobs, as the unemployment rate for those over age 20 fell to 8.3% from 8.8% in October. The women's unemployment rate however, experienced a much smaller dip, mostly because more women had left the labor force.
But the unemployment rate was only half the story. A separate survey compiled from businesses showed that employers added 120,000 jobs in November, marking a pick-up in hiring from October. It was slightly stronger than the 110,000 jobs economists had been expecting.
While businesses have reported mild job growth this year, the household survey that determines the unemployment rate has shown much stronger gains, averaging around 320,000 jobs created each month since August. So even as companies are reporting tepid progress in their hiring levels, more people are saying they're going back to work.
Still, even the business survey contained plenty of good news.
Job growth from the two prior months was also stronger than originally reported. An additional 72,000 jobs were added during September and October combined.
And some industries showed really strong hiring. The retail sector alone added about 50,000 jobs, more than half of which were at clothing and accessory stores, while the leisure and hospitality industry added 22,000 jobs, mostly at restaurants.

Because the Labor Department adjusts its numbers to account for seasonal trends, job growth in those industries is not necessarily because of holiday hiring alone.
"Retailers realized consumer demand was going to be stronger than had been anticipated," said Patrick O'Keefe, director of economic research at J.H. Cohn. "It's confirmation that more of them are taking an optimistic view -- but still many of those jobs could prove to be temporary in nature."
Since the recession, the report has become one of the most closely watched economic indicators. Stocks headed higher Friday, and the White House cautiously welcomed the news, pointing out "the pace of improvement is still not fast enough given the large job losses from the recession that began in December 2007."
Overall, the labor market still has a long way to go to recover from the financial crisis. Less than a third of all the 8.8 million jobs shed have since been recovered. A whopping 13.3 million people remain unemployed and 43% of those have been out of work for more than six months.

Have you run out of unemployment benefits? What are you doing to survive? Email realstories@cnnmoney.com and you could be included in an upcoming story.